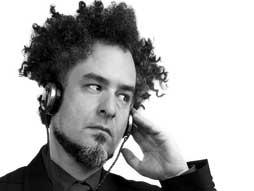 A real-life circus composer, Sxip Shirey makes haunting melodies from familiar objects and reconfigured sounds.
Why you should listen
Sxip Shirey tests the edge of music as he builds "ecstatic melody, unimaginable sounds and deep sexy beats" from mutant instruments and everyday objects. Using his vast imagination and an array of materials (his list includes: Industrial Flutes, Bullhorn Harmonica, Regurgitated Music Box, Triple Extended Pennywhistles, Miniature Hand Bell Choir, Obnoxiophone, Glass Bowls With Red Marbles and a clutch of curious objects), he constructs playful, mischievous acoustic beauty.
The charismatic ringmaster hosts a variety show, Sxip's Hour of Charm, at Joe's Pub in New York City, with a lineup that hosts some of the best and certainly some of the most unusual performance artists in the country. He also plays with the Luminescent Orchestrii.
What others say
"Sxip Shirey's imagination for sounds, sound combinations and textural color -- ranging from experimental and far-out electronically enriched nuggets to slow and heavy gypsy folk songs to eccentric Wurlitzer organ pieces to the odd country folk song -- makes him one of the most curious combinations of composer-sound designer-performer meets storyteller-curator." — CD Baby
Sxip Shirey's TED talk