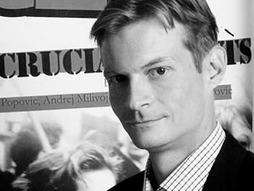 Srdja Popovic was a founder and leader of the student movement that brought down the Milosovic regime. Now, he helps other nonviolent movements learn and grow.
Why you should listen
Srdja Popovic was one of the founders and key organizers of the Serbian nonviolent resistance group Otpor! Otpor!'s campaign to unseat Serbian president Slobodan Milosovic found success in October 2000 when hundreds of thousands of protestors converged upon and took over the Serbian Parliament, effectively ending Milosevic's rule. After the revolution, Popovic served a term as a member of the Serbian National Assembly 2000-2003.
In 2003, Popovic and other ex-Otpor! activists started the nonprofit educational institution the Centre for Applied Nonviolent Action and Strategies (CANVAS) (www.canvasopedia.org). CANVAS has worked with people from 37 countries, including Zimbabwe, Burma, Iran and Venezuela, spreading knowledge on nonviolent strategies and tactics that was used by the Serbian pro-democracy movement to other non-democratic countries. CANVAS has worked with the activists responsible for successful movements such as the Georgian "Rose Revolution" of 2003 and the Ukrainian "Orange Revolution" of 2004-2005. It also transferred knowledge to Lebanese activists in 2004 to address the crisis after the assassination of Prime Minister Harriri, and assisted participants in the Maldives' revolution in 2008. Recently CANVAS has worked with April 6th, a key group in the Egyptian nonviolent uprising, as well as other groups from the Middle East.
CANVAS' teachings are available in a documentary, "Bringing Down a Dictator," featuring Otpor strategies to topple Milosevic. Its manual "Nonviolent Struggle: 50 Crucial Points" was translated into 16 languages, including Farsi and Arabic, and was downloaded 17,000 times from Iran during that country's 2009 protests.
Srdja Popovic's TED talk