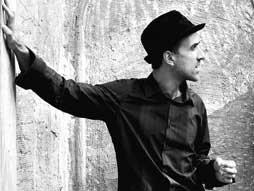 Globe-trotting, genre-hopping cellist Rufus Cappadocia plays the music of our sphere.
Why you should listen
Rufus Cappadocia uses his cello to play the music he hears around the world, filtered through the music in his head. A dedicated musicologist, he has played and studied deeply in many genres, from Haitian voodoo music to Indian ghazal, from Celtic to Balkan. The rich, jazz-inflected sound he pulls from his instrument (which he started playing at age 3) is a passionate through-line in all his work.
Cappadocia writes, records, and plays live, both solo and in several groups -- including Bethany & Rufus (Bethany is Bethany Yarrow, the daughter of Peter Yarrow of Peter, Paul & Mary) and the Vodou Jazz Ensemble.
What others say
"I've studied a lot of different musical vocabularies. And I've played with musicians literally from around the world. But, in the end, music all comes down to a single source. You can be pulled this way or that, but essentially it all converges on the same location. Every doorway leads back to one place. I guess you could say my whole life has been an attempt at getting to that place." — Rufus Cappadocia
Rufus Cappadocia's TED talk