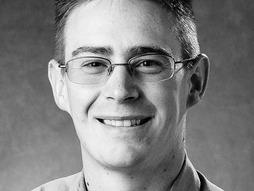 Rob Knight
Microbial ecologist
Rob Knight explores the unseen microbial world that exists literally right under our noses — and everywhere else on (and in) our bodies.
Why you should listen
Using scatological research methods that might repel the squeamish, microbial researcher Rob Knight uncovers the secret ecosystem (or "microbiome") of microbes that inhabit our bodies -- and the bodies of every creature on earth. In the process, he's discovered a complex internal ecology that affects everything from weight loss to our susceptibility to disease. As he said to Nature in 2012, "What motivates me, from a pragmatic standpoint, is how understanding the microbial world might help us improve human and environmental health."
 
Knight's recent projects include the American Gut, an attempt to map the unique microbiome of the United States using open-access data mining tools and citizen-scientists to discover how lifestyle and diet affect our internal flora and fauna, and our overall health.
Knight is the author of the TED Book, Follow Your Gut: The Enormous Impact of Tiny Microbes. 
What others say
"Faeces, lizards, keyboards, faces -- Rob Knight likes to sequence the microbes on anything and everything. Next, he plans to sequence Earth." — Nature, July 11, 2012
Rob Knight's TED talk
More news and ideas from Rob Knight
Science
One day, you might be able to eat microbes -- yes, microbes -- to help you lose weight.
Continue reading
Science
Just like a human being, a house or office has its own microbiome, with good and bad microorganisms. One researcher has a targeted idea: to customize our spaces with the right microbes.
Continue reading
In Brief
  Shai Reshef's nonprofit University of the People — which offers nearly tuition-free, accredited degrees online — today launches its first graduate degree, an MBA program in 12 courses. Although there are no tuition or textbook fees, there is a $200 testing fee per course, which means students can expect to pay $2,400 for their MBA (compare this to the average cost […]
Continue reading