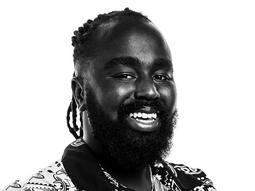 Okong'o Kinyanjui
Pan-African LGBT+ advocate
Okong'o Kinyanjui helps queer Africans mobilize, share resources and build meaningful connections with each other.
Why you should listen
Okong'o Kinyanjui is the cofounder and executive director of the Queer African Network (QAN), a social and professional networking platform for LGBT+ people of African heritage to build meaningful connections and access the resources they need to self-actualize. Both he and his co-founder, Nerima Makhondo, were raised in Kenya under the colonial 14-year imprisonment penalty targeted toward the queer community. For years, they battled life-threatening isolation due to a fear of penalization. They realized the inability to be visible prevented LGBT+ Africans from being able to mobilize, share resources or build meaningful connections with each other. That inspired them to launch QAN, the continent's only currently existing mobile application by and for queer Africans and in the diaspora to access the life-saving resources and connections. QAN is not only a lifeline, but also a tool to support mobilization towards collective freedom.
Okong'o Kinyanjui's TED talk