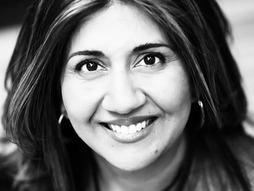 Nilofer Merchant
Corporate director, author
Business innovator Nilofer Merchant thinks deeply about the frameworks, strategies and cultural values of companies.
Why you should listen
Nilofer Merchant has been helping to grow businesses -- from Fortune 500s to web startups -- for 20 years. She's worked for major companies (like Apple and Autodesk) and early web startups (remember Golive?). Logitech, Symantec, HP, Yahoo, VMWare, and many others have turned to her guidance to develop new product strategies, enter new markets, defend against competitors and optimize revenue.
Today she serves on boards for both public and private companies, and writes books about collaboration, like The New How: Creating Business Solutions Through Collaborative Strategy, and openness -- check out her recent ebook 11 Rules for Creating Value in the #SocialEra, chosen by Fast Company as one of the Best Business Books of 2012. She also writes for HBR, including the personal and brave essay about a previous attempt on the TED stage: "What I Learned from My TED Talk."
Watch Nilofer's moving TEDxHouston talk on "onlyness" >>
Nilofer Merchant's TED talk
More news and ideas from Nilofer Merchant
We humans
Some fresh advice on identifying and searching for your own community, from business innovator Nilofer Merchant.
Continue reading
News
When great minds meet, everybody benefits. So, when meetings are good, they're great. But if they're bad (as most office meetings are, be honest with yourself), they're anything but beneficial. You may say to yourself, or quietly argue to this article during your sad desk lunch: "But I am doing work. I'm sitting and talking […]
Continue reading
Business
Walking meetings are a great way to get some exercise during your workday. But when it's chilly and dark, what else can you try? 5 winter-proof options.
Continue reading