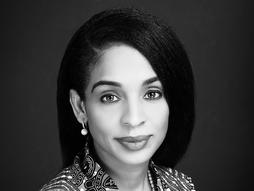 Ndidi Okonkwo Nwuneli
Social entrepreneur and innovator
Ndidi Okonkwo Nwuneli is an expert on social innovation, African agriculture and nutrition, entrepreneurship and youth development.
Why you should listen
Ndidi Okonkwo Nwuneli has over 25 years of international development experience and is a recognized serial entrepreneur, author, public speaker and consultant. She returned to Nigeria in 2000 to serve as the pioneer executive director of FATE Foundation, supporting young entrepreneurs to start and scale their businesses. In 2002, she established LEAP Africa to inspire, empower and equip a new cadre of principled, disciplined and dynamic young leaders in Africa. In the same year, she established NIA to support female university students in Nigeria to achieve their highest potential.
Over the past 13 years, Okonkwo Nwuneli has focused exclusively on transforming the African agriculture and nutrition landscape. Through her work as the cofounder and the Managing Partner of Sahel Consulting Agriculture & Nutrition, she has partnered with a range of private and public sector organizations to implement ecosystem solutions in the African agriculture and food landscapes. As the cofounder of AACE Foods, which produces a range of packaged spices, seasonings and cereals for local and international markets, she has propelled the growth of a catalytic business. As the founder of Nourishing Africa, a digital home for food and agriculture entrepreneurs operating on the African Continent, she is accelerating the growth of the ecosystem and supporting entrepreneurs in 35 African countries.  Her latest start-up, Changing Narratives Africa, us committed to changing global mindsets about Africa by showcasing Africa's contributions to the global food ecosystem, amplifying and scaling proudly African food and beverage brands and ensuring that more people globally experience the diversity and richness of the continent's gastronomic heritage and exciting future.
She started her career as a management consultant with McKinsey & Company, working in Chicago, New York and Johannesburg. She holds an MBA from the Harvard Business School and an undergraduate degree with honors from the Wharton School of the University of Pennsylvania. She was a senior fellow at the Mossavar-Rahmani Center for Business and Government at the Harvard Kennedy School and an Aspen Institute New Voices Fellow. 
Okonkwo Nwuneli was recognized as a Young Global Leader by the World Economic Forum and received a National Honor -- Member of the Federal Republic from the Nigerian Government. She was listed as one of the 20 Youngest Power African Women by Forbes and is a 2018 Aspen New Voices Fellow. She serves on numerous international and local boards including Nestle Nigeria Plc., Nigerian Breweries Plc., Globethics.net Switzerland, Godrej Consumer Products Ltd. India, Fairfax Africa Holdings Canada, Royal DSM Sustainability Board, Netherlands and the African Philanthropy Forum. 
Ndidi is the author of Social Innovation in Africa: A Practical Guide for Scaling Impact and Food Entrepreneurs in Africa: Scaling Resilient Agriculture Businesses both published by Routledge. She is also the author of Working for God in the Marketplace.
Ndidi Okonkwo Nwuneli's TED talk