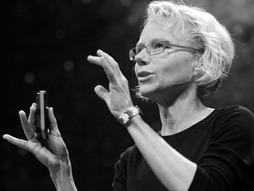 Nathalie Miebach is a Boston-based artist who translates weather data into complex sculptures and musical scores.
Why you should listen
Nathalie Miebach's work focuses on the intersection of art and science and the visual articulation of scientific observations. Her woven sculptures interpret scientific data related to astronomy, ecology and meteorology in three-dimensional space. Her pieces simulatneously function as works of art, aural embodiments of data (musical compositions) and instruments that illustrate environmental change.
By utilizing artistic processes and everyday materials, Miebach questions and expands the boundaries of traditional science data visualization -- and provokes expectations of what visual vocabulary is considered to be in the domain of science and art. Miebach is a TEDGlobal 2011 Fellow.
Nathalie Miebach's TED talk