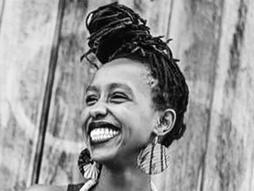 Mwende "FreeQuency" Katwiwa
Writer, youth worker, freedom fighter
Mwende "FreeQuency" Katwiwa is a storyteller, a truth-teller, a builder and breaker trying to figure out what it means to be human in a world that removes so much of our humanity in order to survive.
Why you should listen
Mwende "FreeQuency" Katwiwa is a Kenyan Queer Womyn speaker and performer. Katwiwa is an award-winning, internationally touring poet, author, host, youth worker, social-justice speaker, teaching artist and workshop leader who has spent her life at the intersection of arts, education and activism. Her work in Reproductive Justice, the Movement for Black Lives, LGBTQ+ advocacy and poetry have been featured on Upworthy, OkayAfrica, the New York Times, For Harriet, Everyday Feminism and more.
As a writer, Katwiwa has always centered storytelling as an avenue to create change and believes in "speaking things into existence." Her work is heavily influenced by her heritage and her pan-African upbringing, and centers "the other" and "the in between," places she has often found herself occupying as a black, queer immigrant and emigrant. Her experience of the power of words and stories to impact the lives of those sharing and receiving has pushed her to share and teach the craft as a tool of resistance and advocacy.
Mwende "FreeQuency" Katwiwa's TED talk