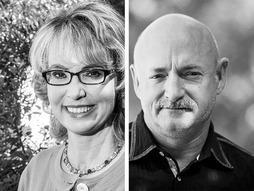 Gabby Giffords and Mark Kelly
Former U.S. Representative and NASA astronaut; survivors
After Rep. Gabby Giffords was wounded by a would-be assassin's bullet in January 2011, she and her husband, Mark Kelly, a NASA astronaut, retired US Navy captain and combat veteran, have become known around the world for their story of hope and resilience.
Why you should listen
For nearly 15 years, Gabby Giffords has dedicated herself to public service. As the youngest woman ever elected to the Arizona State Senate, she represented her community in the Arizona Legislature from 2000-2005, and then in US Congress from 2006-2012. In Congress, Gabby represented a diverse area that covers 9,000 square miles including a 114-mile border with Mexico. She quickly became a leading champion of border security, energy independence, and the needs of military families and veterans. She was consistently ranked as one of the most centrist legislators in Congress. 
In 2007, Giffords married Mark Kelly, a Naval aviator who flew 39 combat missions in Operation Desert Storm and NASA astronaut. Mark flew his first of four missions in 2001 aboard Space Shuttle Endeavour, the same space shuttle that he commanded on its final flight in May 2011. He has also commanded Space Shuttle Discovery and is one of only two individuals who have visited the International Space Station on four different occasions.
On January 8, 2011 in Tucson, Arizona, an assassination attempt at an event with constituents left Giffords severely wounded, and six others dead. Since that day, Gabby and Mark have become known for their story of hope and resilience in the wake of tragedy.
What others say
"Armed with fresh polling data showing overwhelming support for expanding background checks in even the reddest pockets of the nation, the couple tells nervous politicians that they can vote "yes" and still keep their jobs." — Washington Post, July 3, 2013
Gabby Giffords and Mark Kelly's TED talk