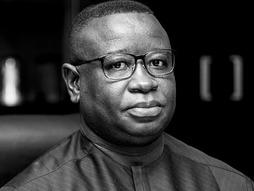 Julius Maada Bio
President of Sierra Leone
As President of Sierra Leone, Julius Maada Bio seeks to find ways to make progress happen — not to dwell on the obstacles that impede it.
Why you should listen
Sierra Leone President Julius Maada Bio is a public servant who thinks the boldest question he can ask to transform his country is: "Why not?" Bio is currently serving as the fifth democratically elected president of Sierra Leone.
Prior to his election as president, Bio proudly served Sierra Leone as a school teacher, soldier and Head of State. As Head of State in 1996, he ushered in multiparty democracy after decades of one-party and military rule in Sierra Leone. He is currently completing a PhD in Peace Studies at University of Bradford in UK. He is one of 35 children born to Paramount Chief Charlie Vonie Bio II, Sogbini Chiefdom in Sierra Leone.
Julius Maada Bio's TED talk
More news and ideas from Julius Maada Bio
Live from TED2019
Power drives everything. At Session 2 of TED2019, we explore how different centers of global power are playing out dramatically across the world.
Continue reading