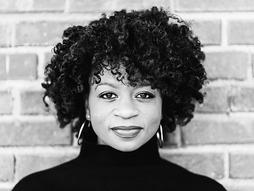 Jodi-Ann Burey
Writer, storyteller
Jodi-Ann Burey is on a mission to disrupt "business as usual" to achieve social change.
Why you should listen
Jodi-Ann Burey is a speaker, writer and creator who works at the intersections of race, culture and health. Born in Jamaica, raised in New York City and well-traveled globally, her influences transcend boundaries. She draws from education, global health, entrepreneurship and other disciplines in her work -- with communities of color at the center.
She has interviewed Stacey Abrams and introduced both US Senator Cory Booker and Vice President Kamala Harris during their 2020 campaigns. Whether she's interrogating authenticity at work or exploring systemic bias as the root of imposter syndrome, her critical lens focuses on how things came to be by examining the systems of oppression that construct the choices we make and how we see the world. 
An alum of Boston College and the University of Michigan, Burey leads conversations with prominent community and business leaders with a goal to not just share ideas, but also leverage the power we already have to address inequities all around us. For her, this is where disruption happens.
In 2018, Burey's public health and social justice worlds collided with a spinal tumor diagnosis. Along that recovery journey, she built what she needed: a space to not feel alone. Jodi-Ann created Black Cancer, a narrative podcast about identity, trauma and health inequities. She also serves as a founding co-chair of the Seattle Diversity, Equity and Inclusion Community of Practice.
Burey prides herself on being a cool auntie, a twist-out queen and a reluctant dog owner. She is currently writing her first book.
Jodi-Ann Burey's TED talk