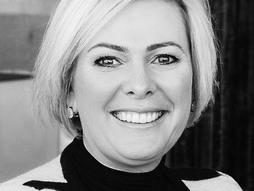 Halla Tómasdóttir
Change catalyst
Icelandic entrepreneur Halla Tómasdóttir believes that if you're going to change things, you have to do it from the inside. She infused the world of finance with "feminine values," which helped her survive the financial meltdown in Iceland and nearly made her president.
Why you should listen
Tómasdóttir's philosophy is simple: (1) the challenges we're facing today won't be solved by testosterone alone; (2) the world would be a better, safer, more sustainable place if we could infuse finance, business and politics with more gender balance; and (3) it's easier to change things from the inside.
True to this philosophy, Tómasdóttir co-founded Audur Capital in 2008, the world's first investment firm based on "feminine values." Audur was one of few financial companies in Iceland to survive the crash. Tómasdóttir has since been an active change catalyst, advocating for principle-based leadership and more women around decision-making tables.
In 2016, responding to popular demand (and a viral Facebook campaign), Tómasdóttir ran for president of Iceland. A woman in a man's race. Polls initially put Tómasdóttir as an outsider, predicting 1 percent of the vote. A few weeks later, against all odds, Tómasdóttir came in second supported by 28 percent of Icelanders.
What others say
"Halla was not just sincere-looking for a politician. She was the most sincere-looking human being I have ever seen, a living emoji of sincerity: her head gently tilted to one side, her face a perfect equation of warm smile and worried, caring expression. She explained that she was a simple 'plumber's daughter' now running for president." — New Yorker, July 2016