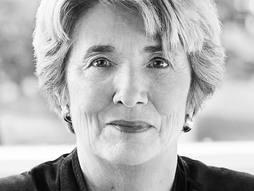 Esta Soler
Violence and abuse prevention expert
In 1994, Esta Soler was among the key advocates for a US law to combat the devastating effects of violence against women. Today, her mission is global.
Why you should listen
Esta Soler has guided Futures Without Violence to become one of the world's most effective advocacy organizations in the effort to recognize and prevent gender-based violence. The agency she founded 30 years ago provides education, policy development and training to reduce the prevalence of violence against women and children, and to care for its victims. "When we started, there wasn't even the language for this," says Soler. 
Futures Without Violence -- then called the Family Violence Prevention Fund -- lobbied for a decade to get the Violence Against Women Act passed in 1994. Congress upheld and expanded the law in 2000, 2005 and most recently in 2013. Today, Futures Without Violence has offices in San Francisco, Boston and Washington, D.C. -- but their vision is for a worldwide moment to end gender-based violence. Today, Soler is committed working with anti-violence activists around the world to pass the International Violence Against Women Act.
What others say
"Esta is a pioneer who founded the Family Violence Prevention Fund nearly 30 years ago and made it one of the world's leading violence prevention agencies." — California Assemblymember Tom Ammiano (D-San Francisco)
Esta Soler's TED talk
More news and ideas from Esta Soler
We humans
Esta Soler and Leslie Morgan Steiner talk about the NFL and how to end domestic violence.
Continue reading
News
By Kate Torgovnick, Helen Walters and Emily McManus Session 3 of TEDWomen begins with an empty stage. And then: the noise of drumming breaks through the quiet as four women, draped in shiny blue cloth with gold bands around their foreheads, march onstage carrying with them large, wooden drums. They place them on the red […]
Continue reading