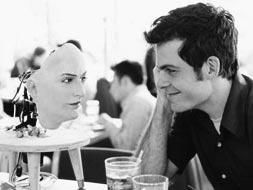 David Hanson
Robotics designer
David Hanson merges robotics and art to design life-like, social robots that can mimic human expression and emotion.
Why you should listen
David Hanson is the founder and CEO of Hanson Robotics -- a company that aims to create robots as socially adept as any human being. Through his organization, he has seen the success of robotic facial hardware that establishes eye contact, recognizes faces and carries out natural spoken conversation. Hanson hopes these robotic faces prove useful to cognitive science and psychology, and to the entertainment industry.

A former Walt Disney Imagineer, this young entrepreneur and roboticist has been labelled a "genius" by both PC Magazine and WIRED, and has earned awards from NASA, NSF and Cooper Hewitt Design. If Hanson succeeds, he will create a socially intelligent robot that may even one day have a place in the human family.
What others say
"This moment is the Kitty Hawk of androids. We're seeing the arrival of conversational robots that can walk in our world. It's a golden age of invention." — David Hanson, in TIME
David Hanson's TED talk