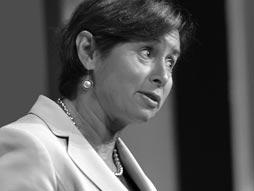 Cynthia Schneider
Cultural diplomacy expert
Cynthia Schneider studies culture and politics — watching how novels, TV shows and cultural engagement around the globe (and especially within the Muslim world) might lead to political change. She was the US ambassador to the Netherlands from 1998 to 2001.
Why you should listen
Cynthia P. Schneider is a Fellow at the Brookings Institution, where she leads the Arts and Culture Initiative within the Saban Center for Middle East Policy. In her work, she looks at the Muslim world through its cultural products (movies, films, books and shows), and searches for clues to deeper social change.
Cynthia Schneider's TED talk