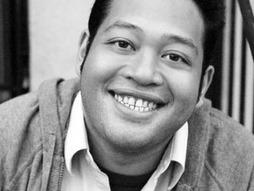 Colin Robertson
Social energy entrepreneur
Colin Robertson is apparently "attempting to make the world's first crowdsourced solar energy solution" Or is he?
Why you should listen
Colin Robertson is a young entrepreneur with a single, world-changing idea: crowdsource solar energy solutions to the global climate crisis. He is a passionate believer in the idea that we can solve all of our problems by coming together in groups.
He is also a fictional character created by ImprovEverywhere for a special prank at TED2012. He is played by Eugene Cordero, an actor and comedian based in Los Angeles, and a regular performer at the Upright Citizens Brigade Theater. 
Colin Robertson's TED talk