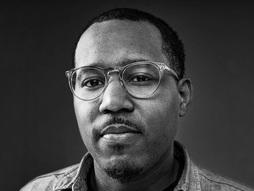 Alvin Irby
Educator, comedian, social entrepreneur, author
Whether speaking to barbers about early literacy, entertaining strangers at comedy clubs, or reading to kindergarteners at a local school, TED Resident Alvin Irby endeavors to make learning relevant and engaging.
Why you should listen
Alvin Irby is a former kindergarten teacher turned social entrepreneur. He is founder and chief reading inspirer at Barbershop Books, a nonprofit organization that creates child-friendly reading spaces in barbershops and provides early literacy training to barbers. His work connecting reading to male-centered spaces and involving men in boys' early reading experiences earned him the National Book Foundation's 2017 Innovations in Reading Prize.
As a cultural competency specialist, Irby trains educators and administrators to translate learning objectives for children or adults into relevant and engaging communication and experiences. Irby's nationally recognized keynotes and workshops excavate his eclectic professional and personal life to better understand and address one of American education's greatest challenges - cultivating children's intrinsic motivation to read.  
Irby's debut children's book, Gross Greg, combines his passion for early literacy and comedy; it is a laugh-out-loud story that captures the hilariously gross behavior of kids everywhere. His clever social commentary and astute observations shine through in his 2012 comedy album They Know Too Much. One of the highlights of Irby's comedy career was being selected as a 2015 StandUp NBC national finalist and performing at the legendary Hollywood Improv in Los Angeles, CA. 
Irby holds a Masters in Childhood Education from the Bank Street Graduate School of Education, a Masters in Public Administration from the Wagner School of Public Service at New York University, and a Bachelors in Sociology from Grinnell College.
Alvin Irby's TED talk