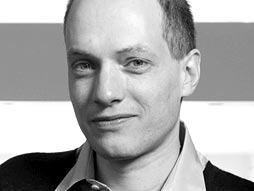 Alain de Botton
Philosopher
Through his witty and literate books — and his new School of Life — Alain de Botton helps others find fulfillment in the everyday.
Why you should listen
It started in 1997, when Alain de Botton turned away from writing novels and instead wrote a touching extended essay titled How Proust Can Change Your Life, which became an unlikely blockbuster in the "self-help"category. His subsequent books take on some of the fundamental worries of modern life (am I happy? where exactly do I stand?), informed by his deep reading in philosophy and by a novelist's eye for small, perfect moments. His newest book is The Pleasures and Sorrows of Work.

In 2008, de Botton helped start the School of Life in London, a social enterprise determined to make learning and therapy relevant in today's uptight culture. His goal is (through any of his mediums) to help clients learn "how to live wisely and well."
What others say
"He writes with an elegance philosophers might envy ... We're painlessly instructed while we read for fun." — SF Chronicle
More news and ideas from Alain de Botton
Business
Smart advice from TED speakers to help you rediscover your joy on the job
Continue reading
We humans
Alain de Botton picks 6 of his favorite philosophers -- whose works have inspired him to think more deeply about success.
Continue reading
Culture
As a companion to today's TEDTalk from Alain de Botton, he sent us this FAQ, a brief introduction to the thinking behind Atheism 2.0: What do you think of the aggressive atheism we have seen in the past few years? I am an atheist, but a gentle one. I don't feel the need to mock […]
Continue reading