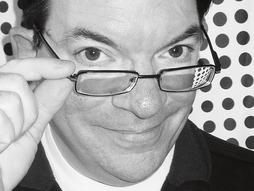 Al Vernacchio
Sexuality educator
In his 12th-grade Sexuality and Society class, Al Vernacchio speaks honestly and positively about human sexuality.
Why you should listen
Al Vernacchio teaches at Friends' Central, a private Quaker school just outside Philadelphia. His positive, enthusiastic and often humorous approach to comprehensive sexuality education (rather than abstinence-only education) has made "Mr. V." a popular speaker -- and has recently brought him to the attention of the New York Times Magazine, which profiled his class in the November 20, 2011, cover story "Teaching Good Sex". When not talking about sexuality, Vernacchio teaches English and is the faculty moderator of the school's Gay-Straight Alliance. He's also a seasoned wedding officiant.
What others say
"Sexuality is a force for good in the universe and the best thing about being human." — Al Vernacchio
Al Vernacchio's TED talk