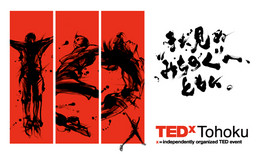 Once called Michinoku, "the land at the end of the road", Tohoku is gifted with values nurtured between the ocean and the mountains, between tradition and innovation.
Come discover the beauty and the potential of Tohoku, and journey further with us – beyond the road's end – towards tomorrow's Michinoku.
Speakers
Speakers may not be confirmed. Check event website for more information.
中野神楽(Nakano-Kagura)
Bugaku performer (bugaku: traditional japanese court music dance and music) Nakano-Kagura is a bugaku which was taken over by a pupil of Sangaku-Kagura, who was born in Genbicho, Ichinoseki city of Iwate prefecture. The performance was inherited when the pupil was helping the Satake family in former Kurikoma town Nakano tamachi with farming. Only shugenja (practitioners of the Japanese religion of Shugendō) and those from/of Shinto shrine were permitted to perform Kagura, until the restriction was removed after the Tokugawa shogunate collapsed due to the Meiji Restoration. Nakano-Kagura was first performed by Kokichi Satake in 1872, and now inherited by Masayoshi Satake, the sixth in descendant. He is continuing his performance in various gatherings, communities in/out of former neighborhood, and in autumn festivals held at shrines in the town. There are currently 22 programs being performed, including genres such as Shikimai, Kamiyokagura, Gekimai. Other performances also exist, but the majority of them are no longer performed due to the lack of successors.

Head of GRA Group Born in 1977, at Yamamoto town, Watari District, Miyagi Prefecture. Entrepreneur. He decided to establish his own business in his hometown, after seeing it devastated by the tsunami. He engaged in bringing about a revolution to his hometown in three main areas: agriculture, education, and interaction: Agriculture that uses professional IT Service Management for the town with 32% of aging population rate; Career education for the Yamamoto-cho junior high school students who are the future of the town; and interaction with different people in order to share the management resources. His aim in the GRA Group (a NPO, Farming corporation, joint stock company GRA) is to employ 10,000 people in 10 years in 100 companies. Mr. Iwasa is the head of 8 companies, and works to build a "sweet-sour" city. (What he means by "sweet-sour" is that indescribable feeling you get when you fall in love, when it's your first day of school in your brand new uniform, or right after buying a wedding ring with your partner… that mixed feeling of happiness, joy, anticipation and anxiety.)

Born in 1974. After graduating with a doctorate degree from Tohoku University, Mr.Takei had a wide experience in different business fields including being a coordinator for Industry-Government-Academia, marketing sales, and venture capitalism. He has been greatly involved in the rejuvenation of Tohoku since his university days. After 2011.3.11, he has contributed by setting up fundraisers such as the ICT International Forum for Reconstruction Assistance. In order to support the entrepreneurs, managers, and other businesspeople in the disaster affected areas, Mr.Takei quit his job and set up a General Incorporated Associations called MAKOTO. Due to his involvement and passionate views, he was given a scholarship to the Kauffman Fellows Program, a Center for Venture Education. Currently, Mr.Takei travels to and from the Silicon Valley and the quake struck area in Tohoku, helping to speed up the reconstruction of the sites.

Born in 1982, graduated from Tohoku University, Faculty of Science 2005: Established LLC FIELD AND NETWORK during her school days as a graduate school student in Tohoku University, served as a board member 2007: Founded specified nonprofit corporation "natural science", took office as the director Ms. Okusa has been alarmed at the "black box" society which only looks at results in a one-sided way. She is thus working to visualize all processes. She hosted a regional cooperative scientific event "University Town 'Sendai / Miyagi' Science Day", where participants can become aware of scientific processes by using their five senses. Raising "education", "society", "science" as themes, she also plans, manages, and issues "Miyagi-no-Shinbun (Miyagi's Newspaper)", a newspaper which enables readers to experience diverse factors of their local regions through collected data and reports. In addition, she makes the best use of her researching capacity and works energetically as an outside adviser and science communicator.
Shimada Masayuki
Shigeatsu Hatakeyama was born in Shanghai, China in 1943. After graduating from Kesennuma Fishery High School, he took over his family's oyster farming business. Upon realizing that it was essential to protect the rivers flowing into the ocean and the forests in the upstream areas in order to conserve the marine environment, he founded "Kaki no Mori wo Shitau Kai (Society to Protect Forest for Oysters)" with his colleagues. The NPO "Mori wa Umi no Koibito (The forests are lovers of the sea)" was established in 2009. He has been involved in "Mori wa Umi no Koibito" campaign since 1989, planting broadleaf trees on the upstream of the Okawa River, which flows into the Kesennnuma Bay, with other fishermen. This movement has been featured in textbooks for elementary and middle school students. At the same time, he has welcomed children from all over Japan to his oyster farm to provide them with environmental education opportunities. Despite losing almost all of his work-related properties at his oyster farm in the tsunami that followed the Great East Japan Earthquake on March 11, 2011, he continues to build communities while preserving the natural environment after the earthquake. He is a recipient of the Asahi Forestry Culture Award (1994), Prime Minister's Award for Afforestation Promotion (2003), and the Kenji Miyazawa Ihatov Award (2004). He was chosen by the United Nations Forum on Forests as one of this year's Forest Heroes Award winners.
Kanisawa Satoshi
Raised amongst the central and southern Alps, he started living in Sendai after entering the Tohoku University Faculty of Science, where he began his research in geology. Mr.Satoshi's fields were to compare the geological features of Kitakamisanchi (a mountainous area near Miyagi and Aomori in Japan), Abukumakochi (another mountainous area near Miyagi and Ibaraki), shielded areas in northern Europe and other areas, and also research about China's resources. Since he has always looked at the Earth's history in a dynamic view, he has learned what small beings humans are. Furthermore, after the earthquake, tsunami, and nuclear accident, his ideas about the powerlessness of humans were confirmed even more. He feels that if people had more interest in the earth's history, the world would be a better place to live in. Therefore, he has been spreading his knowledge of geology, and still continues to seek the relationships between geology and science, literature, and history. Books written by Mr.Satoshi include, "Bungaku wo Tabi suru Chishitsu-gaku" (Geology: A Journey through Literature), "Ishi to Ningen no Rekishi" (A History of Rocks and People), and "Okuno Hoso Michi wo Kagaku suru" (Scientizing "Okuno Hoso Michi – 'The Narrow Road to the Interior'")
Takeuchi Masayoshi
Aya Takada was born in Shiogama, Miyagi and is a graduate of Emily Carr University of Art + Design in Vancouver, Canada. While in Vancouver, she contributed to the online magazine SHIFT as a local correspondent, reporting on young artists and art news in the area. She is a founder of Birdo Flugas, which was established to introduce works by North American artists to Japan and to build networks between North American and Japanese artists. Her gallery birdo space was opened in Shiogama in 2006. In order to bring art and the community together, she offers off-site workshops and events, providing opportunities for local artists to take more active roles in the society as well as for artists and the community to interact with each other. She strives not only to provide a place to exhibit art but also to give value to art itself and its existence. Related link: http://www.birdoflugas.com
Kazami Shozo
Born in 1960. Shozo is inspired by the concept of "sustainable development", which he got to know through his participation in the Earth Summit as a student at University of London. Since then, he has been conducting research on community-centred regional planning for sustainable development, and is keen to put his ideas into practice. Before joining Miyagi University as a Professor in 2008, he worked for a construction company and a research institute. Following the Great East Japan Earthquake and Tsunami on 11 March 2011, Shozo started the Forest School Project to rebuild schools destroyed by the disaster for children in Higashi-Matsushima, together with a leading environmentalist and writer C.W. Nicol. He is also working on projects to help rebuild Tohoku by integrating the concept of the garden city with community business. He holds a PhD in engineering/environmental science & technology; an MBA in project management; an MS in urban & regional planning; and the title of Professional Engineer. Related link: https://www.facebook.com/KazamiShozo
Totaro Guy
"Changing the WORLD… one smile at a time." With this belief, he works as a variety entertainer. He also has a wide background of activities, such as an actor, narrator, character model, musician, clown, magician, and fire artist. Especially since the Tohoku disaster, he has been serving as a "Niko-Niko Taishi (The Smile Ambassadors" for children at the affected areas. His job is to provide smiles to those children for PTSD relief. In the past year and a half, he has visited 90 places, giving smiles to more than 8500 children, their families and communities.
Gareki ni Hana wo Sakasemasho Project
Hiroki Maeno, Ikebana Artist & Keiko Daito, Cellist The "Gareki ni Hana wo Sakasemasho (Let flowers bloom on debris)" Project was started this spring by members of "Hanasakajijiis of Heisei," a group of artists and professionals fascinated by the power of flowers, with a mission to bring hope to the people of Japan and smiles to children. Led by Hiroki Maeno, the project educates the public on the truth about "gareki (debris)" through workshops and events for children. With the aim to help the affected areas recover rapidly, the members work to turn debris, which is considered to be a negative legacy of the March 11 disaster, into a symbol of Tohoku's recovery and hope through the power of flowers and music. Hiroki Maeno (top) An ikebana artist known for his ever-changing style and dynamic, unconventional composition, Hiroki Maeno is called "a modern-day Jakuchu (famous painter of mid-Edo period)" and "an architect of flowers". His works have been displayed in stage decor, TV commercials, space design and performances. As a versatile personality, he is often featured in newspapers, television shows, and radio programs. Keiko Daito (bottom) A graduate of the Tokyo College of Music, Keiko Daito began studying cello at age 16 and trained under Ryoichi Fujimori, Soichi Katsuta, Ryosuke Hori, and M. Ostertag. While still at university, she became known to the public as she appeared in commercials and provided music for television and stage productions. She is active in a variety of fields, touring and collaborating with other artists. Her debut album Tsukiyo no Monogatari (Moonlight Tale) fully produced by Yukiyo Nakamura was released in November 2004.