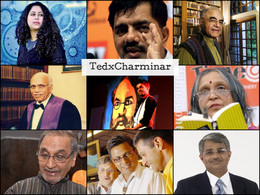 TedxCharminar is an independently organized TED event licensed by TED and supported by Broadridge Financial Solutions, India.
The idea is to spark a culture of intellectual gathering and free thinking in Hyderabad. Leading thinkers from diverse discipline will attend and present their big idea. These include Gurucharan Das, Anita Nair, V Raghunathan, Hussain Zaidi and more.
The theme of this Tedx talks is 'Look Closely', where ideas that capture a paradigm shift or propose a fresh framework will be presented.
The audience for the event is largely invite-only, although a select number of passes will be given to people who approach through this page on first-serve basis. Also, the videos of these talks will be recorded and telecast through YouTube.
Event Date: 28th October 2012, 11 am sharp.