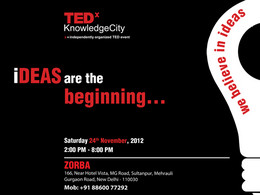 The 2012 edition of TEDxKnowledgeCity is taking shape and the speaker line up is nearly ready. The same shall be unveiled soon.
To keep informed about the "Tsunami of Ideas" that will hit New Delhi on Nov 24, 2012, connect with us on Facebook (www.facebook.com/tedxknowledgecity)
The theme for the conference this year is "Inclusive Heart::Rational Mind."