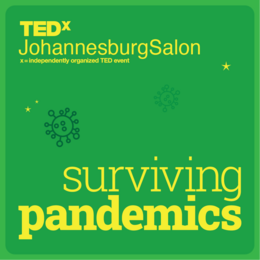 Many African countries were inadequately equipped to withstand the shock of the coronavirus pandemic. While the continent was not unique in this regard, COVID-19 has exposed an apparent need for the people of Africa to strengthen the capacity to collect data, innovate appropriate solutions, and support programs that address the shortcomings. It's one way to guarantee that when the next pandemic comes, African populations can survive without having to endure economic collapse and large-scale loss of life.
Speakers
Speakers may not be confirmed. Check event website for more information.
Anatole Manzi
Public Health Activist
Anatole is deputy chief medical officer at Partners in Health. In his role, he liaises with countries which are supported with Partners in Health to engineering innovative strategies to strengthen health systems. He is also the founder of Move Up Global, a non-profit dedicated to better health and education in remote and resource-strained communities.
Danjuma Adda
Danjuma, a Nigerian prince, is an accomplished public health expert previously serving on the World Hepatitis Alliance (WHA) for the African Region's executive board. He is dedicated to raising awareness and addressing Hepatitis.
Gustav Praekelt
Technologist
Gustav is the founder and chairman of Praekelt Group - a leader in the use of open source mobile technologies to deliver inclusive services. His belief in the power of mobile phones to transform lives inspired him to establish the Praekelt.org in 2006 - a social enterprise whose programmes have reached over 100 million people across 30 countries in Africa.
Justin Jonas
Technologist
Justin provides technical direction and oversight for all activities undertaken by SKA South Africa, through interaction with scientists, engineers, technicians and programme managers. Areas of influence include telescopes and associated instruments, sites and infrastructure to support these, and the training of engineers and technicians to build and operate them.
Violinist
Kabelo is a violinist with extensive experience in classical music, jazz, pop and other genres. From Bach to Louis Armstrong, Elvis Presley to Abdullah Ibrahim, he specialises in tailoring his services to his audience. Kabelo plays on two state of the art violins – a traditional acoustic 1772 Sebastian Kloz, and an electric Yamaha SV-250.
Laura Grant | Alastair Otter
Data Journalists
Laura Grant Laura is an award-winning data journalist who for the past eight years has focused on collecting and analysing data on public interest topics such as school infrastructure, climate change and, most recently, Covid-19. At Media Hack, she combines data analysis and visualisation with journalistic storytelling to make data accessible and interesting. Alastair Otter Alastair has more than 20 years of journalism experience spanning both print and digital publications, and has more than 10 years of experience as a developer focused on producing media-related online products. At Media Hack, Alastair's specialities are data visualisation and the development of online media products.
Liabo Setho
TV Journalist
Liabo is a senior broadcasting business reporter at the SABC with more than 15 years' experience. Through her consistent profiling of small to medium enterprises on the public broadcasters' OnPoint programme, she has cemented her role as a champion for these enterprises.
Strategist
Luba is the co-founder and a director of international audience strategy consultancy AKAS. Through her work, she helps organisations to understand their audiences and translate that understanding into strategic thinking for future decisions.
Lynn Morris
Medical Scientist
Lynn is a principal medical scientist in the Centre for HIV and STIs at the National Institute for Communicable Diseases (NICD), a division of the National Health Laboratory Service (NHLS). She holds a joint appointment as a research professor at Wits University and is an honorary senior scientist at the Centre for the AIDS Programme of Research in South Africa (CAPRISA). For the last 3 years she has served as the interim executive director of the NICD.
Mervyn Abrahams
Program Co-ordinator Pietermaritzburg Economic Justice and Dignity Group
Mervyn the programme coordinator at the Pietermaritzburg Economic Justice and Dignity Group. The Group publishes the monthly Household Affordability Index which has become a countrywide indicator for food inflation of staples purchased by the disadvantaged.
Journalist
Mia is the founding editor-in-chief of Bhekisisa. She has 25 years of broad industry experience in legacy media and digital native publications, working in newsrooms and at media development organisations in Johannesburg, Nairobi and Washington, DC. She has grown Bhekisisa from a specialist desk at M&G to an independent non-profit over the past seven years.
Saad Uakkas
Saad is a young health activist in Moroccan. He served as the coordinator International Federation of Medical Students Associations' COVID campaign. Through his work, he has spoken at over 54 conferences in 21 countries.
Shaneel Bachoo
Research Specialist
Shaneel is a research specialist at consulting firm IQbusiness, where he is also a lead on the Social Progress Index project. Holding a master's degree in social science from the University of KwaZulu-Natal, Shaneel is passionate about generating insightful thought leadership, particularly in the realm of social progress.
Stacey Rozen
Designer
Stacey describes herself as a curious sleuth at (he)art. She is an interdisciplinary designer and expressive arts practitioner, who resonates at the intersection of design, mindful heartistry and craftivism. The use of yarn as artistry-of-craft and craftistry-of-art are her focus.
Wendy Stevens
Scientist
Wendy is a global leader in HIV and TB-related laboratory medicine. She is HoD of Molecular Medicine and Haematology at the Wits University and heads up the National Priority Programme within the National Health Laboratory Service, which is the largest pathology service provider in South Africa, servicing 80% of the population in the public sector.