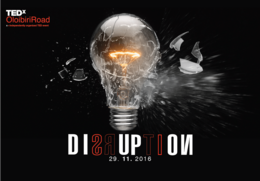 DISRUPTION | dis·rup·tion | disˈrəpSH(ə)n [noun]:
"A disturbance or problems that interrupt an event, activity, or process."
The world is embroiled in tumult, a roiling mass of occurrences hampering the normal flow of activity from the East to West of our globe. TEDx Oloibiri Road, a TEDx licensed for Shell Companies in Nigeria, returns with a focus on DISRUPTION. Through a series of six insightful talks, we explore the power of chaos to foster cohesion, drive innovation and spark creativity. TEDx Oloibiri Road is a unique platform tailored to a diverse and dynamic workforce and built to start the conversations that answer tomorrow's questions today.