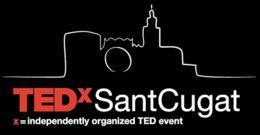 In the spirit of ideas worth spreading, TEDx is a program of local, self-organized events that bring people together to share a TED-like experience. At a TEDx event, TEDTalks video and live speakers combine to spark deep discussion and connection in a small group. These local, self-organized events are branded TEDx, where x = independently organized TED event. The TED Conference provides general guidance for the TEDx program, but individual TEDx events are self-organized (subject to certain rules and regulations).
Speakers
Speakers may not be confirmed. Check event website for more information.
Albert Vilalta
Ingeniero de caminos, canales y puertos. Master en Organización de Empresas. Ha trabajado en el ámbito de la infraestructuras el Medio Ambiente y la Organización Urbana, tanto en el ámbito público como en el ámbito privado, en el que actualmente está desarrollando importantes proyectos relacionados con el medio ambiente y la economía circular. Ex-cooperante de la Caravana Solidaria a África Occidental y escultor.
Andrés Martín
Biólogo, MBA y Doctor en Psicología. Después de ejercer 15 años como directivo en la industria agroalimentaria, decide cambiar de vida para convertirse en instructor de Mindfulness e introducir el programa MBSR en España en 2004. También es autor de varios libros, el último es " Plena Mente; Mindfulness o el arte de estar presente"
Clara Ballesté
Doctora en la facultad de Medicina de la UB, en la actualidad coordina la Iniciativa de Resistencias a Antibióticos de ISGlobal, liderada por el Dr.Vila. Cree firmemente que la resistencia antibiótica es una realidad preocupante y que es necesario concienciar a la sociedad de la dimensión global de este problema.
Daniel Raventós
Doctor en economía. Profesor titular de la Facultad de Economía y Empresa de la Universidad de Barcelona, miembro del Comité de Redacción de la revista política internacional SinPermiso y presidente de la Red Renta Básica, sección oficial de la Basic Income Earth Network. Es miembro del comité científico de ATTAC.
Mara Dierssen
Neurobióloga e investigadora. Jefa de grupo dentro del programa Biología de Sistemas en el Centro de Regulación Genómica de Barcelona. Investiga los vínculos entre los problemas cognitivos y los trastornos de la memoria en pacientes con discapacidad intelectual y trastornos neuropsiquiátricos. Ha publicado multitud e artículos científicos a nivel internacional y libros, como "El Cerebro artístico". Ha recibido premios a su investigación en síndrome de Down.
Marc Cortés
Estratega, emprendedor y explorador sobre las oportunidades que genera la economía digital. Experto en marketing digital, nuevos modelos de negocio en la red y publicidad interactiva. Interesado en los incesantes retos del entorno digital, es un analista de las oportunidades de negocio que, para las empresas, suponen nuevos ámbitos como el big data o el mobile.
Nina Roma
Diseñadora gráfica, ilustradora y Social Media manager. Aficionada a la escritura. Emprendedora y con ganas de conseguir nuevos retos.
Adora las "absurdidades" y las personas que las hacen posibles. Convencida de que las casualidades no existen, y de que todo pasa por alguna razón.
Pablo Herreros
Antropólogo, sociólogo y primatólogo. Experto en organizaciones y psicología sistémica. Se ha dedicado a la investigación y divulgación de la relación entre el comportamiento animal y el mundo de las organizaciones. Director Científico de la Asociación Española de Coaching. Presenta un programa en TVE La 2 con el nombre "Yo, mono" en el que analiza y compara el comportamiento entre animales y humanos.
Santi Carcasona
Músico profesional. Facilitador de Drum Circles, y uno de los impulsores de la disciplina en el sur de Europa. Su trayectoria como músico le llevó, en 2011, a interesarse por la utilización de la música para movilizar y dinamizar personas.
En 2013 viajó hasta New York, Los Ángeles y San Francisco para aprender, de manos de los mejores expertos, las claves para la facilitación musical.
Tupika Malakama