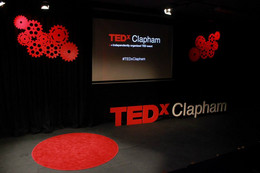 What would the world be like if we knew everything?
Just imagine. If we had all the answers. If nothing was new. If there were no dark corners, unfamiliar faces, mysterious creatures, unidentified tastes, smells or sounds.
Routine? Boring? Predictable? In such a world there would almost certainly be no TED Talks.
Fortunately we don't live in that world. We live in a world of questions, exploration, imagination, challenge and discovery. It's what we like to think of as "the unknown". And we crave it. We need it. It's where life gets that little bit more interesting. And, crucially, it's what drives change.
And that's exactly why we're back. After a first year of unprecedented success, we're back with you again for a new year of TEDxClapham with our new theme: The Great Unknown.
We know that the desire to explore the unknown has been at the heart of human development. And it has, undoubtedly, shaped the world we live in today. From our very first attempts at survival to our thriving civilisations today, new inventions to space exploration, nothing would have been possible without the thirst to discover and create.
As TEDxClapham curator Alex Merry says "We're creatures of habit but we crave the knowledge and progression that you get from embracing the unknown. Put simply when you don't embrace the unknown, growth stops."
So we might not have any of the answers. But we do have questions. As do the thought leaders, visionaries, creaters, do-ers and dreamers who are our inspirational 2016 TEDxClapham speakers.
Embrace the unknown. Come and join us this year. Be one of the ones to Question Everything.
Lunch will be provided by our Partners at WellFed and is included in the price of your ticket.
"Deliciously different healthy lunches made fresh daily to fuel London. Eat Well, Feel Great."
In the spirit of ideas worth spreading, TED has created a program called TEDx. TEDx is a program of local, self-organized events that bring people together to share a TED-like experience.
Our event is called TEDxClapham where x = independently organized TED event. At our TEDxClapham event, TEDTalks video and live speakers will combine to spark deep discussion and connection in a small group.
The TED Conference provides general guidance for the TEDx program, but individual TEDx events, including ours, are self-organized.
Where?
Omnibus, 1 Clapham Common North Side, London SW4 0QW
Doors open 10:15. First speaker starts at 11:00.
Followed by a drinks reception at Honky Tonk, 16A Clapham Common South Side, London SW4 7AB
Speakers
Speakers may not be confirmed. Check event website for more information.
Amma Mensah
Amma Mensah is the founder and executive director of education social enterprise Beyond the Classroom. In this provocative talk, she explores how Social enterprise can be used to empower young people, to lead the change they want to see in their own lives, schools and communities.
Charlie Thuillier
Charlie and his brother Harry broke the unofficial world record for the longest distance travelled by kite, unsupported, having never done the sport before. The brothers ran out of food, lost 8kg in two weeks, and lived off wild fruits for the remainder of the expedition. This prompted Charlie on his return to quit his job and found Oppo ice cream.
Chris Grainger
Chris is practice lead for spatial energy modelling at award winning engineering firm BuroHappold. His focus is on modelling future economic and sustainability challenges at a city scale. Chris currently leads smart city research projects for the Greater London Authority, National Grid and NYC Mayor's Office, tackling future CO2 reductions through increased community energy infrastructure
Daisy Buchanan
Daisy is a journalist, author and broadcaster who writes for a range of publications, including Glamour, Grazia, The Guardian, The Daily Telegraph, Marie Claire, The Pool and The Sunday Times. She is Grazia's agony aunt, helping readers in their twenties and thirties with their careers, relationships and family in her Dear Daisy column.
Esmee Gummer
In 2008 Esmée became paralysed from a surgery that took a wrong turn. Doctors told her she would never walk again. She defied all the odds and, through weeks of intense physiotherapy, she did walk again. Through this personal experience, Esmée learned the power of determination in order to succeed. She is now a top fitness instructor and focuses on motivating and training people to reach their goal as she did when she was told she would never walk again.
Gemma Milne
Gemma is a Scottish creative science nerd obsessed with tech, design, Irn Bru and pi. She is the Tech Innovation Strategist at Ogilvy Labs - the innovation R&D unit within Ogilvy & Mather Group. Gemma consults on future technologies by conducting extensive desk research, attending several global conferences and speaking regularly at innovation, science and technology festivals.
Inua Ellams
Born in Nigeria in 1984, Inua Ellams is an internationally touring poet, playwright, performer, graphic artist & designer. He has published three pamphlets of poetry: 'Candy Coated Unicorns and Converse All Stars', 'Thirteen Fairy Negro Tales' and 'The Wire-Headed Heathen'. His first play 'The 14th Tale' (a one-man show which he performed) was awarded a Fringe First at the Edinburgh International Theatre Festival and his third, 'Black T-Shirt Collection' ran at England's National Theatre.
Jack Blume
Jack Blume is a film composer and a beatboxer, and potentially the only person in the world at the centre of that venn diagram. He is the Musical Director of Gobsmacked! the smash-hit a cappella/ beatbox show currently running at Udderbelly on the Southbank, and has composed original scores for television and international feature films. Having recently come off touring as standin beatboxer for The Sons of Pitches (winners of BBC2's The Naked Choir), Jack is currently scoring a feature film for release later this year.
Laura Penhaul
Laura Penhaul is the Paralympic Lead Physiotherapist for British Athletics and Coxless Crew Team Lead who set 2 World Records in being the first all female crew, to row from mainland America to mainland Australia & first ever 4's boat to cross the Pacific Ocean.
Matt Celuszak
Entrepreneur and speaker, Matt is a Co-founder of CrowdEmotion and serves as its CEO & Chairman. Matt spent the last 10 years building data driven, technology solutions for human measurement within the Americas and EMEA founding CrowdEmotion with a deeply personalised technology at global scale.
Matthew Youlden
Languages have shaped Matthew's entire life, from learning languages as a child with his twin brother (www.superpolyglotbros.com) to later being Babbel's Language Ambassador and working as a lecturer. Having already studied over 20 languages, Matthew's mission is to share his joy of languages. He truly believes that with the right tools and a healthy dose of fun, anyone can easily learn a new language. matthewyoulden.com.
Sooz Kempner
Sooz is a stand-up comedian and actor. In 2010 she graduated from the Royal Academy of Music and has been trying to worm her way into a West End show ever since. Sooz would like people to remember her as a sort of ASDA Kate Bush.
Sophie Henderson
Steven D'Souza
Steven D'Souza is the Director of Deeper Learning Ltd, an Associate Professor at IE Business School, Madrid, and Associate Fellow of the Saïd Business School, University of Oxford. He has authored or co-authored three books: Made in Britain with Patrick Clarke, Brilliant Networking, and Not Knowing with Diana Renner, which won the CMI Management Book of the Year. He is listed on the Thinkers 50 Radar and HR Magazine's 'Most Influential' list. He is working on a forthcoming book with Diana Renner and Robert Poynton. You can reach him on twitter @stevenxdsouza
Stevyn Colgan
Stevyn Colgan is a British writer, artist and speaker. He is a researcher and script writer for the BBC TV series QI and the regular QI Annuals, and for QI's BBC Radio 4 sister show The Museum of Curiosity..