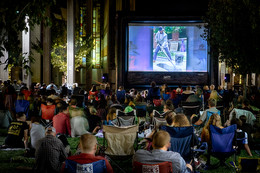 Join us for an evening of recorded TED Talks focused on the power of place. Bring a blanket or camp chair to enjoy the talks under the stars while lounging on the grass at the north end of The Promenade. This is a FREE event.
#placemaking #ReddingisAlive #IdeasWorthSpreading
Speakers
Speakers may not be confirmed. Check event website for more information.
Amanda Flowers Peterson
Amanda Flowers Peterson grew up in adversity. An abusive home, racial bullying, and losing her best friend to suicide are only a few of the examples she uses to express what she's had to overcome. She founded Zion Crisis Navigational Services to provide to the community the basic help that she did not have, but so desperately needed in the midst of her own crises. While Amanda sought help to heal from her past, she deeply studied and learned about the services out there to help others like herself. Learning the ins and outs of the non-profits, government systems, and programs that many times failed her is how she became the person she now believes everyone deserves — an advocate. With over ten years' experience in advocacy and activism, she also spends time giving back to the community as a Shasta County Brave Faces speaker/advocate and serving as a Connect Pastor for Bethel Church, specializing in supporting crisis solutions.
Che Stedman
Che Stedman grew up on the Northern Coast of California and worked in restaurants during high school. He spent almost a decade working his way up from dishwasher before moving to New York to attend the Culinary Institute of America. There he won a gold medal for Garde Manger in the student division of the International Culinary Competition. He graduated with Honors and on the Dean's List in 1997. Che met his wife, Tanya, while working at One Market Restaurant in San Francisco. Together, they moved to Redding and opened Moonstone Bistro in 2006. As an Executive Chef and business owner, Che is a proponent of Farm to Table cooking, utilizing seasonally rotating menus based on local product availability. All of his food is built in house, from scratch, using high quality ingredients with no additives or artificial preservatives. Che also works as an adjunct professor in the Culinary Arts program at Shasta College.
Damien Balderrama
Damien Balderrama is an aspiring speaker, author, life coach and love entrepreneur. He has invested the better part of the last decade studying human behavior and psychology, consciousness and spirituality and healing modalities from around the world. He is passionate about holistically integrating the wisdom he has learned into useful mind, body & spirit practices, to reunite others with their authentic power and guide them into the unique mission for their lives. Damien is currently building the root system for this movement, which he calls Lucid Lighthouse. The cornerstones for Lucid Lighthouse are Education, Entertainment and an Endowment. Education through coaching, workshops and information technologies, Entertainment reinforces the education through music, film/video and publishing. These two endeavors will afford the endowment or philanthropy work, in literacy, elderly and youth services and changing the negative perception of mental illness.
Erin Resner
Erin Resner is the co-owner of eight Dutch Bros Coffee outlets in Northern California, where she and her husband employ more than two hundred young people. For the last twelve plus years they have been champions of the youth who work for them as well various community programs throughout Shasta County. The Resners and their businesses have received numerous awards including both the Virgil Covington Award as well as Business of the Year by the State of California. During her entrepreneurial career Erin has spent time sharing with other business owners, students, school administrators, and teachers on what they are doing right with the next generation, including how to best set them up for success in the business world. She is a philanthropic member and Vice-Chair of The Women's Fund, a Court Appointed Special Advocate for youth in Dependency Court, a Commissioner for the City of Redding's CSAC, as well as a major donor to multiple children-focused programs within the community.
Garrett Viggers
Garrett Viggers is a renaissance entrepreneur, artist and long time Redding-based singer-songwriter, instrumentalist, film-score composer, worship leader, and performer. In February, 2014 Garrett co-founded Limelight Health, a Redding and San Francisco based health tech startup now with more than 35 full-time employees. Limelight Health is on a quest to reimagine employee benefits for an industry lacking technology and creativity. Most recently, Garrett helped start Justice Bows mentoring his 13 year old founder-son Gabriel Justice Michael Viggers after launching at a Google Startup Weekend at the Shasta Venture Hub in November of 2015. Justice Bows makes bow ties from recycled flannels and fabrics, including celebrity attire and pro-athlete jerseys. They give a portion of their proceeds to non-profits bringing educational justice to kids, including one partnership with Redding based non-profit Zedbridge and their school in Kolkata, India.
Heather Wylie
Heather Wylie has a bachelor's degree in cultural anthropology and women's studies in 1996 from the University of California, Santa Barbara, Heather spent two years mentoring youth on probation as an AmeriCorp member in San Luis Obispo County. The value of strong relationships to the success of this population played a key role in shaping her research interests as a doctoral student in sociology at the University of California, Davis. In both her master's and PhD work, she studied how connections between patients and caregivers and caregivers and their regulatory bodies shape how we see and experience childbirth today. Starting in 2006, Heather continues to enjoy her work as a sociology professor at Shasta College where she engages students in conversations about gender, media, medicine, and minorities. Inspired by these discussions, she started the Civic & Community Engagement program to promote experiential learning opportunities across the disciplines.
Jack Burgess
Jack Burgess is an artist, designer, and facilitator. He and his wife Susie, who is also an artist, have two girls and live in Redding CA. For 15 years Jack has designed, facilitated, and captured collaborative work sessions. He has worked with large companies to help them design solutions to their most complex business problems, determine strategic direction, and communicate more effectively. The process he facilitates is active, visual, and iterative–it intentionally makes space for all learning styles and utilizes principles of design thinking. Jack is also the co-founder of a company called Worlds Greatest–a design company focused on making skateboards, building custom motorcycles and helping other companies create establish their own brand. When Jack gets a quiet moment, he reminisces about his days as a landscape painter. To see some of his paintings or to get a better picture of what else he does, visit www.jackburgessstudio.com.
Janessa Gans Wilder
Janessa Gans Wilder is the founder and CEO of Euphrates Institute, a non-profit organization whose aim is to build bridges of understanding between the Middle East and West through educational trips, championing change agents in the Middle East, and leading a grassroots network of local Chapters in the U.S. Europe, and Middle East. Janessa started her career as a CIA analyst, and spent nearly two years in Iraq from 2003-2005 and from 2001-2003 supported war-time efforts on Afghanistan from Agency headquarters. Her Middle East experience has included Arabic study in Syria and the Palestinian Territories and extended travel throughout the Arab world. After Iraq, Janessa became a consultant to the State Department and a visiting professor of Middle East issues at Principia College in Elsah, Illinois. Janessa received a Master's degree in International Policy Studies from Stanford University, and her BA from Principia College.
Joshua Johnson
Joshua Johnson is a real estate developer and student of new urban city planning and neighborhood design. He has influenced builders and investors with a civic-minded approach to real estate development that promotes patterns designed to help people connect and neighborhoods where residents gain a sense of belonging and friendship. Joshua is developing his first neighborhood in Redding, California called Shiloh Park where he is putting into practice many of the design patterns he believes are necessary for thriving, connected communities. He is planning to also live in the new neighborhood once developed with his wife, Rebekah, and four daughters. Prior to developing real estate, Joshua was a visual designer and founder of Mindbox Studios, a creative team that has launched 100 startups and completed over 300 technology projects over the last 7 years. Connect with Joshua Johnson on LinkedIn or by email at joshua@shilohcapital.co.
Mark Soderwall
Mark Soderwall has been professionally directing and designing video games for the past nearly three decades, including at LucasArts, ATARI and Electronic Arts. Mark has helped to define and visually innovate experiences on StarWars, CloneWars, LEGO and Terminator for game players worldwide. Mark is now a full time creative entrepreneur, co-founding two successful startups in Redding, CA as well as an online university that teaches aspiring game developers how to successfully break-in, build and brand their game developments and businesses. As a public speaker, Mark tours annually to industry conferences and colleges to motivate young entrepreneurs. Currently living in Redding, Ca. Mark is happily married and has three beautiful children and two grand children who continually inspire his creative pursuits!
Scott Seaton
Conductor Scott Seaton is in increasing demand on the international level after having won the INTERAKTION competition in Berlin and as a semi-finalist in the 2012 Sir Georg Solti International Conducting Competition in Frankfurt, Germany. He has been praised as a conductor with "finesse, clarity, and precision" by the Luxembourg Times. Seaton is the Music Director of the North State Symphony and was recently named Principal Conductor of the Veridian Symphony Orchestra in Yuba City. From 2012-2015, he was the Music Director of the Minot Symphony Orchestra in North Dakota. Since his international debut in 2007 with the Orchestre Philharmonique du Luxembourg, Seaton has conducted orchestras across North America, South America, and Europe. Seaton earned degrees from the Université de Montréal, the New England Conservatory, and the Blair School of Music at Vanderbilt University.
Simeon Talley
Simeon Talley is a native of Columbus, OH who came to Iowa to work in politics. After finishing his degree he decided to turn his focus towards entrepreneurship. He is now the co-founder of Iowa Fashion Project (IFP) and co-creator of Flyover Fashion Fest. IFP is an organization dedicated to elevating and growing Iowa's emerging fashion community. Flyover Fashion Fest is an annual festival that seeks to showcase Iowa fashion and design talent and build connections between Iowa's fashion community and the global fashion industry. Simeon Talley came to Iowa City in 2008 while working on the Obama campaign as a field organizer, then attended the University of Iowa, where he studied international politics.
Steve Steve Beissinger
Steve Beissinger is a Professor of Conservation Biology at UC Berkeley, where he held the Leopold Chair in Wildlife Biology and is a research associate of the Museum of Vertebrate Zoology. His research centers on two of the biggest challenges facing conservation and society – wildlife responses to global change and species' extinctions – in protected areas and working landscapes in California and Latin America. His studies have influenced the management of many highly endangered species, including the Devils Hole pupfish, California Condor, Everglades Snail Kite, and threatened parrots. For the past decade Steve, his students and collaborators have worked from Death Valley to Mount Lassen retracing the footsteps of CAL Professor Joseph Grinnell, who surveyed birds and mammals throughout California in the early 1900's, to document the impacts of climate and land use change (the Grinnell Resurvey Project).
Sydney Lai
Sydney Lai is a gregarious community leader passionate about helping people pursue entrepreneurship. Born in a small town in rural California, Sydney now lives in Silicon Valley building startup ecosystems domestically and internationally, leading accelerators, venture funds, and community events. As a technical marketer and designer with an award winning background in sales, Sydney grows products and services users want. Her work spans across industries and startups including banking, virtual reality, government, and aerospace. In 2016, Sydney Lai has been recognized as an LGBT Technology Leader by The White House, Office of Science and Technology Policy. To get involved and find resources to innovate your town, visit http://www.growthbarn.com/ or reach her at @sydneylai