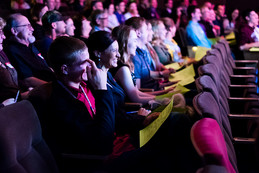 A great show that includes thought provoking presentations by five top-notch speakers! An after party will follow the show with hor d'oeuvres and opportunities to spark great conversations with our speakers and others from our community.
Speakers
Speakers may not be confirmed. Check event website for more information.
Eric "Q" Beckman
Professor of Economics
Q has been a professor at Delta College since May of 2003, over the last 13 years or so he has been involved in many college-wide and student initiatives, serving in many leadership roles at the College. He regularly presents on personal finance techniques for employee, student, and community groups. Q has held many jobs over his working life spending time as a stock boy, pizza cook/delivery, line cook/chef, commercial and residential painter, painting contractor, substitute middle and high school instructor, store clerk, bartender, bouncer, handyman, and now he's settled in quite nicely in the role of college professor (although he still bounces on weekends when the opportunity presents itself). In all of these roles, Q has had the experience of running up against stereotyping and always strives to let who he is and what he can do, rather than what he looks like, come through in his work.
Chemist, Professional Magician, Professional Speaker
Gene Anderson is a PhD chemist, a professional magician, and a motivational speaker. He has practiced at least one and often all three professions in thirty-two countries on six continents. If that sounds funny, it should. Fun is actually the key word. Do you feel guilty when you have fun at work? Why have we been conditioned to think that work must be – well, work? Laughter enhances creativity, promotes connectivity, boosts immunity, and improves overall health. Being a scientist, Gene has the facts and figures to prove it. You will find yourself nodding in agreement and laughing out loud at the same time. His talk is a melting pot of anthropology, psychology, sociology…and a barrel full of fun.
Professional Speaker
Jimmy Tuman is an internationally known sociologist, educator, radio and television personality who has spoken to over 2 million people in more than 1,300 schools nationwide, asking them to examine their motives, goals, and feelings, and then make meaningful decisions about their futures. Young people have never been in more turmoil than they are today. The breakdown of family, at-risk issues, and the inability to get their voices heard are dominating the educational environment. Jimmy's approach encompasses all factions that affect a young person's life: their friends, their families, their teachers and educators, and the community at large.
Melissa Jun Rowley
Journalist/Entrepreneur
Melissa Jun Rowley is a journalist, entrepreneur and activist focused on the intersection of storytelling, technology and social justice. As the founder and CEO of Humanise, Inc., she is developing The Toolbox, a data-driven humanitarian initiative created by the iconic musician Peter Gabriel. Having secured a partnership with the World Economic Forum, Melissa is leading efforts to alleviate the socio-economic divide in urban environments and emerging marketings through collaborating with local communities to bring them the most empowering technology and smart city solutions. As a journalist, Melissa writes about gender issues, race, youth advocacy, and how emerging technology can be be harnessed to instigate social change. Her online work includes features for Fast Company, CBS News, Mic.com, Huffington Post, Mashable, Village Voice Media, Discovery News, BlogHer, MTV Act, Cisco's Technology News Network and the Smart+Connected Communities Institute.