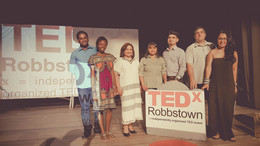 The first TEDx event held in Guyana was the TEDxRobbstown talk which was held on December 28th, 2015 at the Theatre Guild. The event featured speakers whose topics ranged from sexual and reproductive rights, decolonising Caribbean literature and the adverse effects of religious fundamentalism in Guyana/Caribbean. The common threads weaved through all the talks were colonialism, identity, culture and gender inequality.
Speakers
Speakers may not be confirmed. Check event website for more information.
Ferlin Pedro
Student of Philosophy/Astrophotographer
Pedro is a student at Birkbeck College, University of London, pursuing studies in Philosophy. His professional background is in Information Technology. He is the founder of an informal humanist movement called the 'Guyana Secular Humanists Association'. He's also an avid astrophotographer.
Gerhard Ramsaroop
Farmer/Political Activist
Gerhard holds a Bachelor of Science in Economics. He was born in Guyana in 1971 and moved to the former East Germany at 10 months old then returned to Guyana in 1976 where he currently lives with his family. He jointly owns and manages with his wife a family business, Double 'B' Exotic Gardens, growers of heliconias and ginger lilies that they make into floral arrangements.
Michelle Heeralall Ramsaroop
Businesswoman
Michelle was born in Guyana in 1977. She lived 6 years in British Columbia, Canada and then 7 years in Toronto working in Information Technology, including 3 years at Hargraft before moving back to Guyana in 2007. She is the mother of a little boy and jointly manages with her husband, their family business, Double "B" Exotic Gardens.
Nawa Munyinda
Medical Student/Poet
Nawa is from Zambia. She is a medical student attending the Texila American University in Guyana. Nawa is a poet whose writing centers around issues of gender inequality, culture and feminism. She intends to practice medicine in Zambia when her studies are completed.
Patricia Sheerattan Bisnauth
Executive Director- Guyana Responsible Parenthood Association- GRPA/Pastor
Patricia is a Minister of Religion, Executive Director and Gender and Development Specialist with over twenty-five years of professional experience, which includes eleven years of international experience in a senior executive position with the former World Alliance of Reformed Churches and the World Communion of Reformed Churches; ten years of management experience with Government and Non-Government Organisations, and the Social Investment Fund (Guyana), more than five years of Parish Ministry with the Guyana Presbyterian Church and more than two years as an Executive Director of the Guyana Responsible Parenthood Association (GRPA).
Subraj Singh
Author and Playwright
Subraj was born on 25th May,1992. He attended Queen's College from 2004-2009 and recently completed his Bachelor's Degree in English Literature at the University of Guyana – graduating with Distinction and a GPA of 3.9 and winning the Vice Chancellor's Special Award for Best Graduating Student from the Humanities. In 2014, he won the Walter Rodney Prize for Creative Writing (Short Story) for my piece, "Rebelle." George Lamming was Chief Judge for this competition. In the summer of that same year, Earlier in 2015, he completed studies at the National School of Theatre Arts and Drama – graduating with Distinction and a GPA of 4.0. He was given the award for Best Graduating Student from the Institute of Creative Arts and also won several other awards: Best Student in Directing, Best Student in Performance and Best Student in Playwriting.