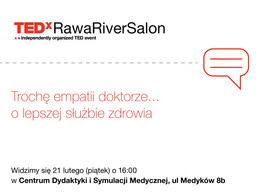 Tematem spotkanie będzie próba ocieplenia wizerunku współczesnego medyka. Wszyscy znamy serię popularnych anegdot o "babie" i "lekarzu". Z medycyną jest podobnie, jak z polityką i pogodą – każdy wydaje się na niej doskonale znać. Jak jest jednak naprawdę?
Budżet Narodowego Funduszu Zdrowia między 2005 a 2013 r. wzrósł o ponad 100 proc. z 31,5 do 64 mld. zł. Czy o tyle wzrosła też satysfakcji pacjentów w tym czasie? Jak duży wpływ na nasze zdrowie ma miejsce, w którym mieszkamy, a jakie nasza dieta? Jaką rolę powinien pełnić lekarz w idealnym systemie opieki zdrowotnej?
Chcąc znaleźć odpowiedzi na te pytania, TEDxRawaRiver przyjął zaproszenie środowiska studentów Śląskiego Uniwersytetu Medycznego w Katowicach. Nie będzie landrynkowo, ale prawdziwie, bo funkcjonowanie lekarza we współczesnych systemach jest trudne.
Czy dziś profesjonalny lekarz to taki, który wykonuje dokładnie procedury wskazane przez Narodowy Fundusz Zdrowia, czy to raczej osoba stale poszerzająca swoją wiedzę medyczną i potrafiąca za "punktami procedur" zobaczyć drugiego człowieka? Jak jednocześnie ma zachować higienę emocjonalną w kontekście tematów trudnych, np. śmierci? O tych zagadnieniach będą mówić m.in. Jolanta Grabowska-Markowska, Prezesa Społecznego Towarzystwa Hospicjum Cordis oraz dr Stanisław Górski, który przedstawi również doświadczenia z pracy w krajach Afryki.
Spotkanie nie dotyczy tylko lekarzy, ale każdego z nas. Jako pacjenci musimy zobaczyć, że osoba w białym kitlu to nie tylko usługodawca – "diagnozomat" czy "receptomat". Eric Dishman, badający zagadnienia związane z ochroną zdrowia w firmie INTEL, w swojej prezentacji TEDTalk, opowie o tym, jak ważna jest koordynacja pracy zespołu lekarskiego. Na podstawie własnych przeżyć stawia tezę, że nowoczesna służna zdrowia to powinien być sport zespołowy, a nie indywidualny.
O tworzeniu nowych usług medycznych opowie Paweł Nowak, inicjator konferencji WUDSilesia, która w październiku 2013 r. odbyła się w Zabrzu i poświęcona była tym zagadnieniom. Peter Attia (TEDTalk) przedstawi swoje doświadczenia z bycia młodych chirurgiem i stereotypy, jakim wtedy ulegał patrząc np. na otyłych pacjentów. Atul Gawande (TEDTalk), absolwent Harvard University, opowie jak dzięki wprowadzeniu prostych list kontrolnych w czasie operacji chirurgicznych, udało mu się zmniejszyć śmiertelność pacjentów o połowę. Prof. Jadwiga Stawnicka przedstawi z kolei wyniki badań, dotyczących tego jakim językiem mówią lekarze i co z tego rozumieją pacjenci.
Jeśli myślisz, że temat tego TEDxRawaRiverSalon Cię nie dotyczy to na pewno jesteś w błędzie.