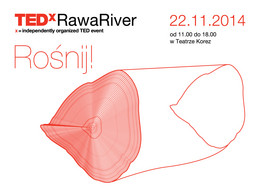 Już po raz trzeci spotykamy się na śląskiej konferencji TEDxRawaRiver. Tym razem tematem wydarzenia jest hasło "Rośnij!" Nasi prelegenci będą mówić o ideach wartych rozpowszechniania w trzech, przenikających się wymiarach - osobistym, lokalnym i globalnym.
Rozmawiając o rozwoju, dyskusję zaczniemy od poziomu personalnego. Za każdą wielką ideą na świecie stoi człowiek. To od jergo lub jej indywidualnej pracy ze sobą, zaczyna się każdy pomysł, który zmienia nasze otoczenie i planetę.
Dopiero kilkadziesiąt lat temu człowiek uświadomił sobie, że jego działania - często nawet najmniejsze - wpływają na całą Ziemię. Przez wieki rozwój był głównie rozumiany, jako wzrost bogactwa państw i jednostek. Dziś już wiemy, że w wielu wypadkach takie podejście prowadzi prosto do katastrofy lub kryzysów.
Śląsk jest niezwykłym miejscem do prowadzenia takiej dyskusji. Jeszcze 300 lat temu jednym z towarów eksportowych tego regionu była wełna merynosów - owiec, które pasły się na katowickich łąkach. Półtora wieku później cały obszar zaczął zapełniać się technicznymi nowinkami rewolucji przemysłowej. Rozwój industrialny regionu doprowadził do degredacji środowiska i na zawsze zmienił wygląd śląskich miast. Dziś trwa dyskusja o nowej wizji wzrostu regionu.
Wśród wystąpień prelegentów będzie przewijać się pytanie - jak mamy rozwijać się na Śląsku, aby robić to w sposób trwały i przyjazny naszemu otoczeniu i całej Ziemi? Zapraszamy do wzięcia udziału w tej dyskusji.