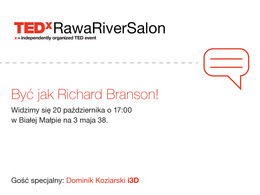 Sir Richard Branson to dziś ikona popkultury. W kolorowych czasopismach pojawia się równie często, jak Doda czy "Honey" Skarbek. Jednak przede wszystkim to przedsiębiorca pełen pasji, którego majątek w 2012 r. był szacowany na ponad 4,5 mld. dolarów.
Zaczynał bardzo skromnie od sprzedaży drzewek świątecznych, papużek falistych i wydawania czasopisma w kościelnej krypcie. Dzisiaj sieć spółek o nazwie Virgin oplata nie tylko całą ziemię, oceany ale i kosmos.Oprócz zarządzania firmami Branson znajduje czas na bicie rekordów lotów balonem i działalność charytatywną. W 2008 r. na swojej wyspie Necker zorganizował szczyt, na którym goście mieli zająć się problemem globalnego ocieplenia. Zasiada też w jednej z komisji ONZ.
Jak jeden człowiek znajduje czas na te wszystkie pomysły? Na czym polega fenomen Richarda Bransona? W rozmowie TEDTalk z Richardem Bransonem wspólnie poszukamy odpowiedzi na te pytania. Będzie to z pewnością bardzo inspirujące spotkanie.
Poza tym posłuchamy Setha Godina – guru marketingu i zobaczymy na żywo Dominika Koziarskiego z firmy i3D. Opowie on o znaczeniu wielowątkowości w pracy.