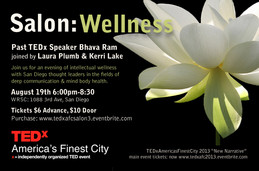 Wellness: The New Narrative
Speakers:
Bhava Ram, Laura Plumb, and Kerri Lake
Location is World Resource Center at 1088 3rd Ave, San Diego, CA 92101
Time 6:00 - 8:30
Tickets : $6.00 presale and $10.00 at the door.
http://tedxafcsalon3-eac2.eventbrite.com/
TEDxAFC strives to break barriers, facilitate meaningful connections, and create purposeful change together. The Salon events are a great way of creating meaningful connections amongst like-minds.
Watch TED and TEDx talks as a group. Discuss them in a unique environment with San Diego's Finest. Keep the community strong by coming together on a monthly basis to spark some conversation. We hope it will ignite some more action in this great city.
Thank you to our host : World Resources Sim Center - www.wrsc.org
More about this event - https://www.ted.com/tedx/events/10075
Stay tuned for more details. Raffles for main event tickets and more.
All the best,
TEDxAmericasFinestCity