TEDxYouth Weekend 2016
TEDxYouth Weekend was a series of TEDxYouth events that took place around the world on November 19 and 20, 2016, around the theme of What Now? These events are designed to empower and inspire young people. More about TEDxYouth events
---
Today, young people are growing up in a world where the definitions of who we are, where we live and how we get things done seem to adjust and expand every day. It's an exciting time, but can also be a confusing one.
We used this opportunity to collectively ask ourselves where we are today and where we want to be tomorrow.
TED curated a special playlist that included youth-specific talks from the TED, TEDx and TED-Ed libraries. All TEDxYouth events held in conjunction with TEDxYouth Weekend were invited to watch the playlist, and curate live speakers and performers of their own!
About this event type
The event can be just a simulcast of the official TEDxYouth Weekend playlist, or can also include local speakers and performers.
All TEDx standard rules apply to a TEDxYouth Weekend license, but with a couple of additions/exceptions:
A TEDxYouth event must occur on one the days of the TEDxYouth Weekend event – or within 24 hours of the event. This means your license will expire immediately after the event.
The following also applies to TEDxYouth Weekend events:
Naming your event
Youth events generally use the word "kids" or "youth" in their names along with the name of their community (e.g., TEDxYouth@[YourCity], TEDxYouth@[Schoolname] or TEDx[Schoolname]).
Audience
Our audience are the people who your TEDxYouth event is oriented toward, which is youth! In short, the young people in your local community will be your main audience.
Theme
At your event, you can focus on that year's official TEDxYouth Weekend theme, What Now, or expand the conversation. Either way, you'll want to feature a diversity of speakers from across several disciplines, but primarily people who are from the local community you're serving. Remember, TEDxYouth events can also just be a viewing party of the official TEDxYouth Weekend playlist.
Duration
TEDxYouth events are held on the same day of the official TEDxYouth Weekend, or up to 24 hours after those dates. So you might want to be creative about how you screen the conference based on your time zone. Your event can be up to one day in length.
Pricing
If you have live speakers at your TEDxYouth event, you may charge a small fee, but only to cover food + drinks, or as insurance against no shows. If you are just showing the official TEDxYouth Weekend playlist, the event must be free.
Watch the playlists!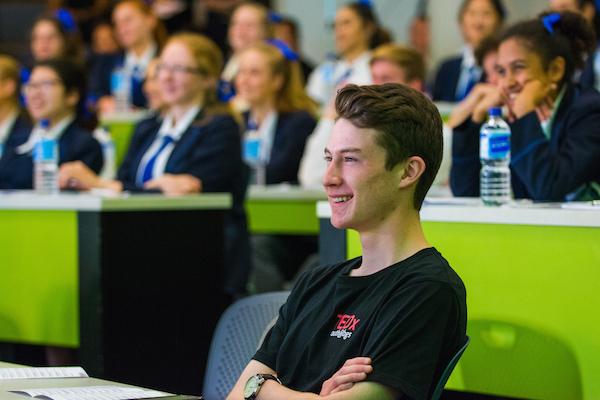 Livestream banners