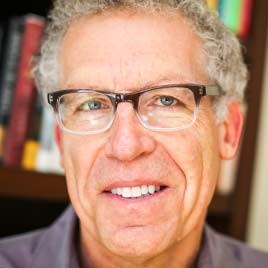 Playlist (6 talks)
Carlton Cuse: 6 talks that help me create
"These talks have inspired me to create, in my writing or in my life," says Carlton Cuse, screenwriter and producer of "Lost" and "Bates Motel." "These speakers have 'passionate optimism' -- that inner drive that allows us to risk truly expressing ourselves."
Playlist (6 talks): Carlton Cuse: 6 talks that help me create
19:09

Now playing

Elizabeth Gilbert muses on the impossible things we expect from artists and geniuses — and shares the radical idea that, instead of the rare person "being" a genius, all of us "have" a genius. It's a funny, personal and surprisingly moving talk.

17:20

Now playing

Radio host Julie Burstein talks with creative people for a living — and shares four lessons about how to create in the face of challenge, self-doubt and loss. Hear insights from filmmaker Mira Nair, writer Richard Ford, sculptor Richard Serra and photographer Joel Meyerowitz.

9:42

Now playing

Nothing is original, says Kirby Ferguson, creator of Everything is a Remix. From Bob Dylan to Steve Jobs, he says our most celebrated creators borrow, steal and transform.

23:41

Now playing

In an engaging and personal talk — with cameo appearances from his grandmother and Rosa Parks — human rights lawyer Bryan Stevenson shares some hard truths about America's justice system, starting with a massive imbalance along racial lines: a third of the country's black male population has been incarcerated at some point in their lives. These issues, which are wrapped up in America's unexamined history, are rarely talked about with this level of candor, insight and persuasiveness.

17:30

Now playing

"Tipping Point" author Malcolm Gladwell gets inside the food industry's pursuit of the perfect spaghetti sauce — and makes a larger argument about the nature of choice and happiness.

4:07

Now playing

Volunteer firefighter Mark Bezos tells a story of an act of heroism that didn't go quite as expected — but that taught him a big lesson: Don't wait to be a hero.