WorkLife with Adam Grant: A TED original podcast
About WorkLife
Organizational psychologist Adam Grant takes you inside the minds of some of the world's most unusual professionals to explore the science of making work not suck. From learning how to love criticism to harnessing the power of frustration, one thing's for sure: You'll never see your job the same way again.
As one of Apple Podcasts' most downloaded new shows of 2018, WorkLife spent two weeks as the #1 show on the entire podcast chart.
Also available wherever you listen to podcasts
Add our RSS feed
---
Episodes
Listen to the podcast with transcripts on TED.com
---
About WorkLife
Each episode of WorkLife with Adam Grant takes you inside the minds of some of the world's most unusual professionals to discover the keys to a better work life. You'll meet a group of misfits at Pixar who defied expectations and broke boundaries with The Incredibles, Olympic athletes who cheer for their rivals, and a server turned CEO who shares the surprising secrets to networking.
Adam also tackles emotions and mental obstacles that impact our work, like loneliness, procrastination, burnout and bouncing back from rejection. In immersive interviews, Adam vividly brings his observations to life, weaving together stories with social science and revealing key insights in a friendly, accessible style.
"We spend a quarter of our lives in our jobs. This show is about making all that time worth your time."
Made possible with the support of Morgan Stanley, Verizon, LinkedIn, Logitech and SAP
WorkLife is produced in partnership with Transmitter Media.
---
About the host

Adam Grant
Adam Grant is an expert on how we can find motivation and meaning, and lead more generous and creative lives. As a popular TED speaker and the New York Times bestselling author of three books that have sold over a million copies, he has helped Google, the NBA, and the U.S. Army improve life at work. Adam has been Wharton's top-rated professor for six straight years, and has been recognized as one of Fortune's 40 under 40 and the world's 10 most influential management thinkers. He's a former magician and junior Olympic springboard diver.
---
Our Sponsors


Morgan Stanley
Morgan Stanley has earned a worldwide reputation for the excellence of its advice and execution in financial markets. With offices in more than 41 countries, the firm is truly global-and a market leader in the U.S., Europe and Asia as well as in emerging markets. Morgan Stanley's success rests on the talents and passion of our people, who share a common set of values and bring excellence and integrity to everything they do. We seek to grow long-term relationships by virtue of our consistently rigorous thinking and the unsurpassed access to financial markets that Morgan Stanley can bring. This means providing leadership in specific areas such as investment banking, debt and equity underwriting, research, and sales and trading. We also focus increasingly on creating custom-tailored solutions that cut across functions to help our clients realize new opportunities and solve complex problems. Our aim is to be the first choice of everyone who deals in financial markets, whether as prospective clients, employees or investors.


Verizon
Verizon Communications Inc. was formed on June 30, 2000, and is one of the world's leading providers of technology, communications, information and entertainment products and services. Headquartered in New York City and with a presence around the world, Verizon offers data, video and voice services and solutions on its award-winning networks and platforms, delivering on customers' demand for mobility, reliable network connectivity, security and control. With a purpose to create the networks that move the world forward, Verizon delivers the promise of the digital world by enhancing the ability of humans, businesses and society to do more new and do more good.


SAP
Starting with one customer and a handful of employees, SAP set out on a path that would not only transform the world of information technology, but forever alter the way companies do business. Now 49 years later with more than 400,000 customers and recognized as a top employer, SAP is fueled by its purpose to help the world run better and improve people's lives. Employees are the heartbeat of all great companies. They define what you sell, spend, and profits you see. And when opportunities and crises arise, it's your people that make the difference. Keeping them happy isn't merely the right thing to do, it's the one thing you must do. It means offering meaningful, motivating work so employees can be their best. By moving from Human Capital Management to Human Experience Management (HXM), SAP SuccessFactors HXM Suite shifts from processes, steps, and procedures to individualized experiences designed to keep employees happy, productive, engaged, and improving. It's how you provide them with the best possible place to work, which makes your business the best it can possibly be.


Logitech
Logitech designs products that have an everyday place in people's lives, connecting them to the digital experiences they care about. Almost 40 years ago, Logitech started connecting people through computers, and now we're a multi-brand company designing products that bring people together through music, gaming, video, and computing. We have transformed ourselves along the way, seeking to extend human capability as we go. Today, we continue to help people pursue their passions, and take action for a more equal, sustainable world.


LinkedIn
LinkedIn connects the world's professionals to make them more productive and successful, and transforms the way companies hire, market, sell, and learn. Our vision is to create economic opportunity for every member of the global workforce. LinkedIn has 756 million members and has offices around the globe.
---
What people are saying

The Porsche of podcasts.

Inc.
One of "5 podcasts college grads should download immediately."

Forbes
Tackles a lot of issues that have been on my mind lately about how we can make our work lives work better… helpful advice.

Melinda Gates
---
Awards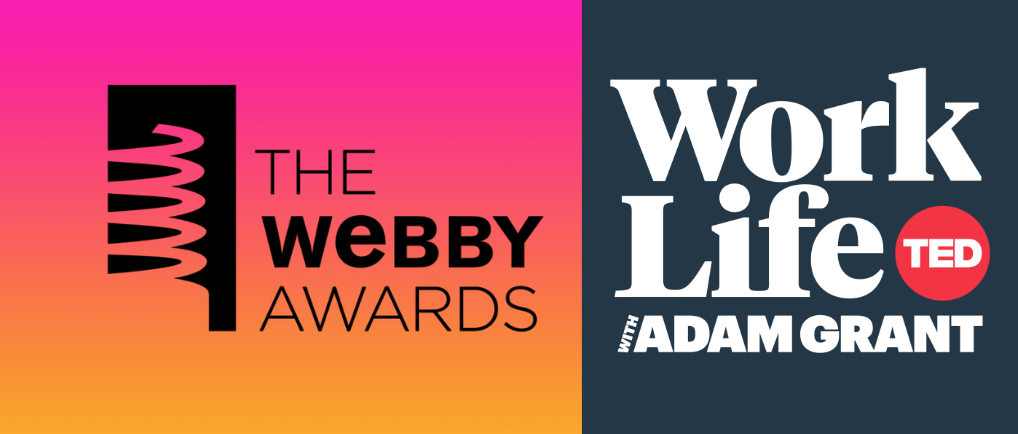 Webby Award Nominee : 2021 Best Business Podcast
Webby Award Honoree: 2019 Best Business Podcast
---
Download the WorkLife with Adam Grant media kit