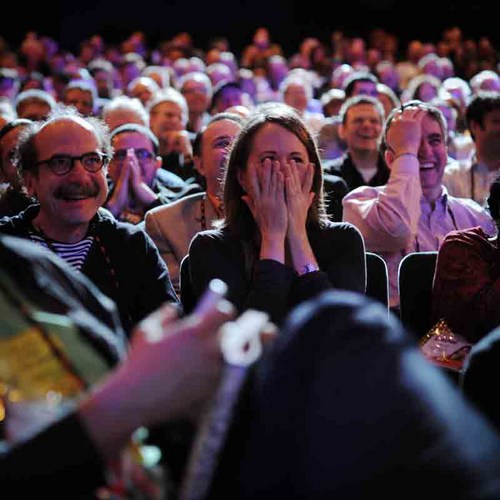 Playlist (13 talks)
The funniest TED Talks
Great TED Talks illuminate an idea. Sometimes, they do it while making you laugh. These talks will bring a smile to your face. Please note: Vigorous debate ensued among our staff about which talks to include. So we hope you'll find something for every sense of humor.
Playlist (13 talks): The funniest TED Talks
14:13

Now playing

"I have cerebral palsy. I shake all the time," Maysoon Zayid announces at the beginning of this exhilarating, hilarious talk. (Really, it's hilarious.) "I'm like Shakira meets Muhammad Ali." With grace and wit, the Arab-American comedian takes us on a whistle-stop tour of her adventures as an actress, stand-up comic, philanthropist and advocate for the disabled.

18:56

Now playing

Performer and web toymaker Ze Frank delivers a hilarious nerdcore standup routine, then tells us what he's seriously passionate about: helping people create and interact using simple, addictive web tools.

9:48

Now playing

Suspicious emails: unclaimed insurance bonds, diamond-encrusted safe deposit boxes, close friends marooned in a foreign country. They pop up in our inboxes, and standard procedure is to delete on sight. But what happens when you reply? Follow along as writer and comedian James Veitch narrates a hilarious, weeks-long exchange with a spammer who offered to cut him in on a hot deal.

22:52

Now playing

Philosopher-comedian Emily Levine talks (hilariously) about science, math, society and the way everything connects. She's a brilliant trickster, poking holes in our fixed ideas and bringing hidden truths to light. Settle in and let her ping your brain.

14:03

Now playing

Tim Urban knows that procrastination doesn't make sense, but he's never been able to shake his habit of waiting until the last minute to get things done. In this hilarious and insightful talk, Urban takes us on a journey through YouTube binges, Wikipedia rabbit holes and bouts of staring out the window — and encourages us to think harder about what we're really procrastinating on, before we run out of time.

12:20

Now playing

We believe we should work hard in order to be happy, but could we be thinking about things backwards? In this fast-moving and very funny talk, psychologist Shawn Achor argues that, actually, happiness inspires us to be more productive.

5:16

Now playing

Despite her best efforts, comedian Julia Sweeney is forced to tell a little white lie when her 8-year-old begins learning about frog reproduction — and starts to ask some very smart questions.

20:59

Now playing

The New Yorker receives around 1,000 cartoons each week; it only publishes about 17 of them. In this hilarious, fast-paced, and insightful talk, the magazine's longstanding cartoon editor and self-proclaimed "humor analyst" Bob Mankoff dissects the comedy within just some of the "idea drawings" featured in the magazine, explaining what works, what doesn't, and why.

9:29

Now playing

Web cartoonist Randall Munroe answers simple what-if questions ("what if you hit a baseball moving at the speed of light?") using math, physics, logic and deadpan humor. In this charming talk, a reader's question about Google's data warehouse leads Munroe down a circuitous path to a hilariously over-detailed answer — in which, shhh, you might actually learn something.

19:24

Now playing

Sir Ken Robinson makes an entertaining and profoundly moving case for creating an education system that nurtures (rather than undermines) creativity.

21:00

Now playing

In this hilariously lively performance, actress Sarah Jones channels an opinionated elderly Jewish woman, a fast-talking Dominican college student and more, giving TED2009 just a sample of her spectacular character range.

7:11

Now playing

Iranian-American comedian Maz Jobrani takes to the TEDxSummit stage in Doha, Qatar to take on serious issues in the Middle East — like how many kisses to give when saying "Hi," and what not to say on an American airplane.

8:05

Now playing

TED Fellow Negin Farsad weaves comedy and social commentary to cleverly undercut stereotypes of her culture. In this uproarious talk/stand-up hybrid, Farsad speaks on her documentary, The Muslims Are Coming!, narrates her fight with the MTA in New York and offers a detailed breakdown of the different types of haters she's encountered in her work. "Comedy is one of our best weapons," she says. "We've tried a lot of approaches to social justice, like war and competitive ice dancing — but a lot of things are still kind of awful. I think it's time we try and tell a really good poop joke."