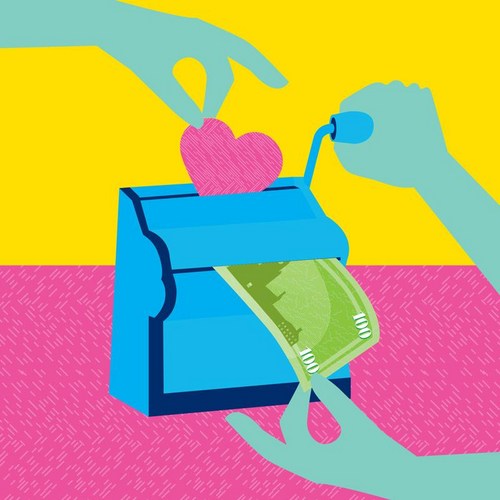 Playlist (11 talks)
Social Good, Inc.
Businesses have the resources to make contributions to the collective good. Here, TED Talks on what can happen when corporations make saving the environment and helping people a priority, plus talks on how business principles might even be more effective for creating change than non-profit models.
Playlist (11 talks): Social Good, Inc.
13:58

Now playing

You might not expect the chief operating officer of a major global corporation to look too far beyond either the balance sheet or the bottom line. But Harish Manwani, COO of Unilever, makes a passionate argument that doing so to include value, purpose and sustainability in top-level decision-making is not just savvy, it's the only way to run a 21st century business responsibly.

16:28

Now playing

Why do we turn to nonprofits, NGOs and governments to solve society's biggest problems? Michael Porter admits he's biased, as a business school professor, but he wants you to hear his case for letting business try to solve massive problems like climate change and access to water. Why? Because when business solves a problem, it makes a profit — which lets that solution grow.

12:34

Now playing

Can global capital markets become catalysts for social change? According to investment expert Audrey Choi, individuals own almost half of all global capital, giving them (us!) the power to make a difference by investing in companies that champion social values and sustainability. "We have more opportunity today than ever before to make choices," she says. "So change your perspective. Invest in the change you want to see in the world."

16:28

Now playing

Melinda Gates makes a provocative case: What can nonprofits learn from mega-corporations like Coca-Cola, whose global network of marketers and distributors ensures that every remote village wants — and can get — an ice-cold Coke? Maybe this model could work for distributing health care, vaccinations, sanitation, even condoms ...

18:54

Now playing

Activist and fundraiser Dan Pallotta calls out the double standard that drives our broken relationship to charities. Too many nonprofits, he says, are rewarded for how little they spend — not for what they get done. Instead of equating frugality with morality, he asks us to start rewarding charities for their big goals and big accomplishments (even if that comes with big expenses). In this bold talk, he says: Let's change the way we think about changing the world.

13:18

Now playing

The big blue buildings of Ikea have sprouted solar panels and wind turbines; inside, shelves are stocked with LED lighting and recycled cotton. Why? Because as Steve Howard puts it: "Sustainability has gone from a nice-to-do to a must-do." Howard, the chief sustainability officer at the furniture megastore, talks about his quest to sell eco-friendly materials and practices — both internally and to worldwide customers — and lays a challenge for other global giants.

15:54

Now playing

At his carpet company, Ray Anderson has increased sales and doubled profits while turning the traditional "take / make / waste" industrial system on its head. In a gentle, understated way, he shares a powerful vision for sustainable commerce.

18:23

Now playing

Jacqueline Novogratz shares stories of how "patient capital" can bring sustainable jobs, goods, services — and dignity — to the world's poorest.

4:16

Now playing

HIV is a serious problem in the DR Congo, and aid agencies have flooded the country with free and cheap condoms. But few people are using them. Why? "Reformed marketer" Amy Lockwood offers a surprising answer that upends a traditional model of philanthropy. (Some NSFW images.)

18:33

Now playing

What do you think of people in poverty? Maybe what Jessica Jackley once did: "they" need "our" help, in the form of a few coins in a jar. The co-founder of Kiva.org talks about how her attitude changed — and how her work with microloans has brought new power to people who live on a few dollars a day.

10:03

Now playing

Here's a stat worth knowing: In the UK, 63% of men who finish short-term prison sentences are back inside within a year for another crime. Helping them stay outside involves job training, classes, therapy. And it would pay off handsomely — but the government can't find the funds. Toby Eccles shares an imaginative idea for how to change that: the Social Impact Bond. It's an unusual bond that helps fund initiatives with a social goal through private money — with the government paying back the investors (with interest) if the initiatives work.