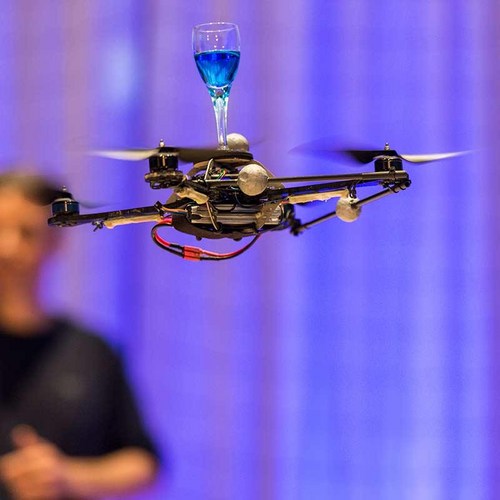 Playlist (15 talks)
Will drones save us or destroy us?
Depending on who you listen to, drones will either save the world -- or usher in our techno-driven doom. Here, take a look at the light and dark side of drones.
See exclusive articles on the TED blog.
Playlist (15 talks): Will drones save us or destroy us?
25:01

Now playing

"What would you attempt to do if you knew you could not fail?" asks Regina Dugan, then director of DARPA, the Defense Advanced Research Projects Agency. In this breathtaking talk she describes some of the extraordinary projects — a robotic hummingbird, a prosthetic arm controlled by thought, and, well, the internet — that her agency has created by not worrying that they might fail. (Followed by a Q&A with TED's Chris Anderson)

10:21

Now playing

Paralyzed by a stroke, Henry Evans uses a telepresence robot to take the stage and show how new robotics, tweaked and personalized by a group called Robots for Humanity, help him live his life to the full. He shows off a nimble little quadrotor drone, created by a team led by Chad Jenkins, that gives him the ability to once again stroll a garden, visit a campus or give a TEDx Talk.

16:05

Now playing

In this powerful talk, P.W. Singer shows how the widespread use of robots in war is changing the realities of combat. He shows us scenarios straight out of science fiction — that now may not be so fictitious.

13:30

Now playing

Ecologist Lian Pin Koh makes a persuasive case for using drones to protect the world's forests and wildlife. These lightweight autonomous flying vehicles can track animals in their natural habitat, monitor the health of rainforests, even combat crime by detecting poachers via thermal imaging. Added bonus? They're also entirely affordable.

16:46

Now playing

In his lab at Penn, Vijay Kumar and his team build flying quadrotors, small, agile robots that swarm, sense each other, and form ad hoc teams — for construction, surveying disasters and far more.

19:25

Now playing

The world is becoming increasingly open, and that has implications both bright and dangerous. Marc Goodman paints a portrait of a grave future, in which technology's rapid development could allow crime to take a turn for the worse.

16:08

Now playing

In a robot lab at TEDGlobal, Raffaello D'Andrea demos his flying quadcopters: robots that think like athletes, solving physical problems with algorithms that help them learn. In a series of nifty demos, D'Andrea show drones that play catch, balance and make decisions together — and watch out for an I-want-this-now demo of Kinect-controlled quads.

13:20

Now playing

As a novelist, Daniel Suarez spins dystopian tales of the future. But on the TEDGlobal stage, he talks us through a real-life scenario we all need to know more about: the rise of autonomous robotic weapons of war. Advanced drones, automated weapons and AI-powered intelligence-gathering tools, he suggests, could take the decision to make war out of the hands of humans.

15:00

Now playing

Master storyteller Malcolm Gladwell tells the tale of the Norden bombsight, a groundbreaking piece of World War II technology with a deeply unexpected result.

9:13

Now playing

A billion people in the world lack access to all-season roads. Could the structure of the internet provide a model for how to reach them? Andreas Raptopoulos of Matternet thinks so. He introduces a new type of transportation system that uses electric autonomous flying machines to deliver medicine, food, goods and supplies wherever they are needed.

22:48

Now playing

In 1998, aircraft designer Paul MacCready looks at a planet on which humans have utterly dominated nature, and talks about what we all can do to preserve nature's balance. His contribution: solar planes, superefficient gliders and the electric car.

11:47

Now playing

America was built by makers — curious, enthusiastic amateur inventors whose tinkering habit sparked whole new industries. At TED@MotorCity, MAKE magazine publisher Dale Dougherty says we're all makers at heart, and shows cool new tools to tinker with, like Arduinos, affordable 3D printers, even DIY satellites.

17:46

Now playing

In war we often see only the frontline stories of soldiers and combat. AT TEDGlobal 2010, Zainab Salbi tells powerful "backline" stories of women who keep everyday life going during conflicts, and calls for women to have a place at the negotiating table once fighting is over.

15:46

Now playing

Massimo Banzi helped invent the Arduino, a tiny, easy-to-use open-source microcontroller that's inspired thousands of people around the world to make the coolest things they can imagine — from toys to satellite gear. Because, as he says, "You don't need anyone's permission to make something great."

13:09

Now playing

At his lab at the University of Pennsylvania, Vijay Kumar and his team have created autonomous aerial robots inspired by honeybees. Their latest breakthrough: Precision Farming, in which swarms of robots map, reconstruct and analyze every plant and piece of fruit in an orchard, providing vital information to farmers that can help improve yields and make water management smarter.