Skoll Foundation TEDx Global Partnership
The Skoll Foundation is a global supporter of the TEDx network of curators and conveners who are strengthening community and civic discourse in 170+ countries around the world.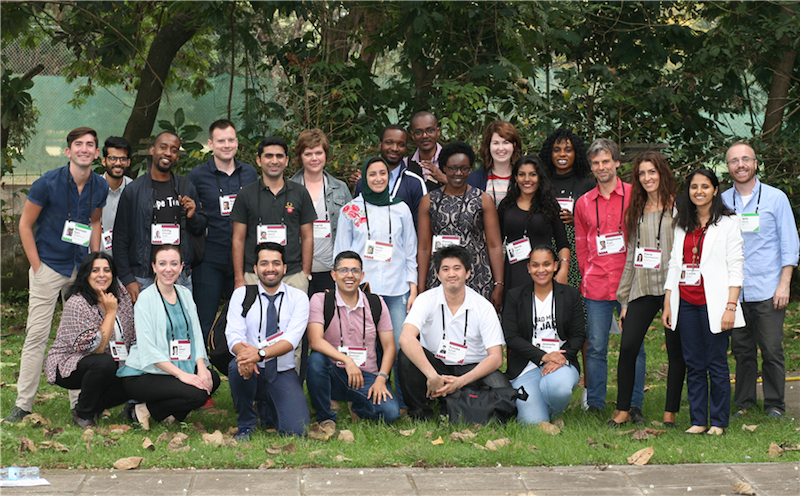 The Skoll Foundation drives large-scale change by investing in, connecting and celebrating social entrepreneurs who transform our world for the better. By purposefully connecting TEDx organizers and Skoll's communities, platforms and insights, our goal is to improve society on a local-to-global scale with ideas worth spreading.
---
About the partnership
Over three years, the TEDx community and Skoll are collaborating on activations around the world.
Upcoming activations:
TEDx Skoll Conversations
The Skoll Foundation and 4 independent TEDx teams from around the world will collaborate on a series of conversations to explore entrepreneurial solutions and approaches to pressing local and global problems. Working with invited TEDx organizers and Skoll Awardees, the co-developed conversations will take place alongside 4 TEDx events. As part of this series, 4 TEDx regional workshops funded by Skoll will also coincide with these events for additional peer-to-peer learning across the TEDx community.
The participating TEDx events are:
TEDxLagos (Lagos, Nigeria)
TEDxBangaloreSalon (Bangalore, India)
TEDxTukuy (Lima, Peru)
TEDxSaoPaulo (Sao Paulo, Brazil)
Interested in attending these events or regional workshops? Email tedxpartnerships@ted.com or RSVP on Facebook to stay updated on this series.
TEDxGlobalDay
For the second year, the TEDx community will join forces for the second inaugural TEDxGlobalDay. Together with their teams, and virtually with TEDx teams all over the globe, TEDx organizers will spend the day focusing on the problems most urgent to their community—first by discussing potential solutions and then by participating in local action. TEDxGlobalDay is made possible with generous support from the Skoll Foundation. Sign up to participate and learn more!
TEDWomen 2018
Skoll will support the TEDx workshop at TEDWomen 2018 in Palm Springs, California. Additionally, Skoll is supporting scholarships for TEDx organizers to attend TEDWomen and qualify to organize events with more than 100 attendees.
Past activations:
TEDFest 2017 & 2018
Skoll was a Major Partner of TEDFest—a simulcast experience for the flagship TED conference—exclusively created for TEDx organizers. Hosted in Brooklyn, New York, where over 500 TEDx organizers from 61 countries convene for a week of TED Talks, knowledge sharing, connection, workshops and parties.
TEDGlobal 2017
Skoll was an official partner of TEDGlobal 2017 in Arusha, Tanzania. Its support enabled TEDx organizers to attend the conference under full scholarship, and connected our global community at workshops and celebrations that focused on the bright ideas that are driving the continent forward.
TEDxSkoll 2017
TEDxSkoll invited new audiences to hear from social entrepreneurs and other innovators about the most important issues of our time. TEDxSkoll welcomed 500+ members of the Oxford, UK community to join participants and speakers from across the UK and the globe to engage in rich dialogue, forge connections, and seize on the energy sparked by the Skoll World Forum in Oxford.
---
About the Skoll Foundation
Jeff Skoll created the Skoll Foundation in 1999 to pursue his vision of a sustainable world of peace and prosperity. Led by CEO Sally Osberg since 2001, the Skoll Foundation's mission is to drive truly transformative change—equilibrium change—by supporting the social entrepreneurs who recognize the systems in need of change and then advance social progress by developing powerful models for change that disrupt a suboptimal status quo and transform our world for the better.
By identifying the people and programs already bringing positive change around the world, the Skoll Foundation empowers them to extend their reach, deepen their impact, and fundamentally improve society on a local to global scale. The Skoll Foundation has invested approximately $400 million worldwide, including the Skoll Award to 122 social entrepreneurs and 100 organizations on five continents.
Learn more