TED-Ed@Home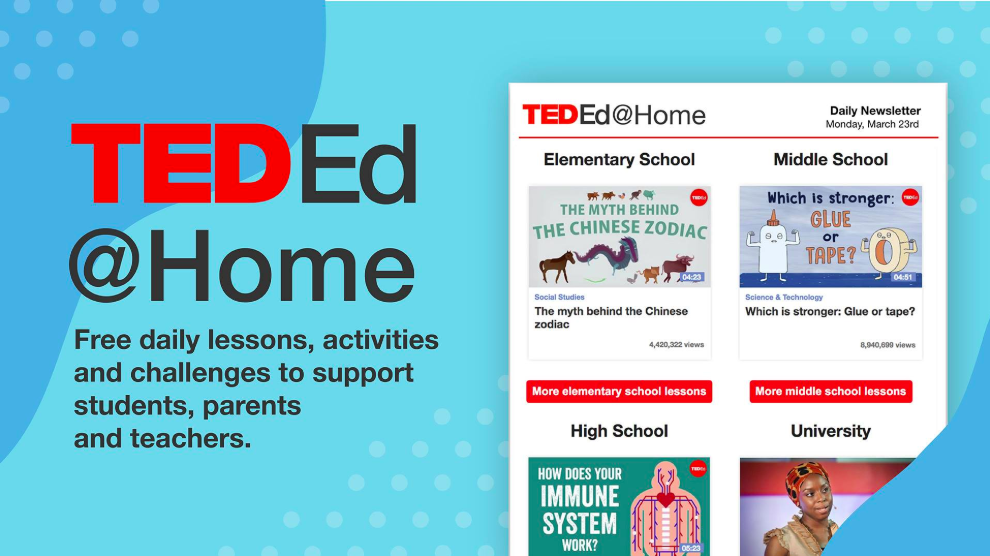 Are you teaching or learning from home?
Created to support the millions of students, parents and teachers affected by the COVID-19 pandemic, the TED-Ed@Home daily newsletter provides people with high-quality, interactive, video-based lessons spanning all age groups and subjects, for free.
Every lesson featured within the newsletter is created with the support of expert educators and TED speakers, and each newsletter also includes updates from TED-Ed's global community, and daily educational challenges that people can engage with as individuals or as families.
Subjects covered:
The Arts
Business & Economics
Design, Engineering
Health
Literature & Language
Mathematics
Philosophy & Religion
Psychology
Science & Technology
Social Studies
Thinking and Learning
And more…
Age groups served:
Elementary/Primary
Middle School/Lower Secondary
High School/Upper Secondary
College/University