Intel
For over a decade, Intel has worked with countries, communities, and schools to use technology solutions to transform the lives of the next generation. Through the TED and Intel partnership, Intel was able to unlock their institutional knowledge and share how breakthroughs in the lab become life-altering advances in the real world.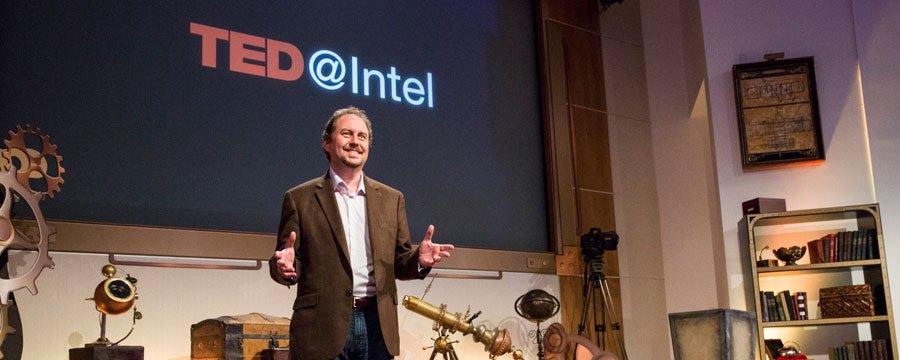 TED@Intel
Intel joined the TED Institute to unlock institutional knowledge through events like TED@Intel, where TED curated and coached Intel talent to deliver their own TED Talks in two afternoon sessions, live streamed from their California headquarters.
The TED Institute was created as a high-level experience for our most invested partners. Intel came to TED with a wealth of internal talent and expertise spread over an extensive global network. We worked with them to recreate the atmosphere of a TED conference by tapping into their own network of incredible people and ideas.
In March 2013 at the Intel headquarters in Santa Clara, employees gathered for the first TED@Intel where engineers, artists, executives, educators, programmers and scientists from the Intel family came together to share their most fascinating ideas. Some of these talks were so extraordinary that they now live on TED.com and have been viewed hundreds of thousands of times.
A few great ideas from TED@Intel:
Research scientist Jennifer Healy revealed how cars sharing GPS data might help avoid accidents in life-changing numbers.
Principal engineer Maria Bezaitis challenged us to embrace the unfamiliar and allow it to help us grow.
Eric Dishman drew on a deeply personal experience to suggest a bold idea for healthcare – put the patient at the center of the treatment team.
To complement the ideas presented by the live speakers, TED traveled with Intel and a film crew to India and Israel where everyone worked together to document the impact of technology on women in different cultures. Both short films were screened during TED@Intel and can be seen on the Intel channel on TED.com alongside all the talks from the event.
I came looking for ideas, but it was the people that left the greatest mark.

Jeremy Schulz, Intel staffer
TED@Intel by the numbers:
17 TED@Intel talks
2 sessions
400 attendees
1849 tweets on the day of the event
1673 people tweeting about the event
2 Intel microdocumentaries
3 talks on TED.com
1 Intel channel on TED.com
Through our partnership, TED was able to tell the human story behind Intel's technological innovations. Their employees wowed both Intel and TED audiences with their creativity and charisma, and we were thrilled to share the story of the personal impact of Intel technology in communities around the world.
TED and Intel Microdocumentaries:
TED also produced two microdocumentaries to showcase two of Intel's initiatives and these pieces of content were also shown as interstitials at TED@Intel, bringing these ideas to the network.
Mission (im)possible: Silicon photonics
When Mario Paniccia began assembling a team of scientists to explore silicon photonics (systems that use silicon as an optical medium) in 2001, nobody thought they could succeed. Now, a decade and several Nature papers later, Intel has announced plans to commercialize the breakthrough technology Mario and his team built from scratch.
Magadelene and Naema: Bridging the gender digital divide
Nobody told Magdalene and Naema that girls and women aren't supposed to use the internet or learn about technology. In a Bedouin community in the Negev Desert in Israel and in an impoverished village in India, we met two women who are defying the status quo and empowering girls and women (not to mention boys and men) and transforming outcomes. Featuring Intel's Renee Wittemyer.
---