Delta
Delta Air Lines serves more than 160 million customers each year, and was named by Fortune magazine as the most admired airline worldwide in 2011. Delta is investing more than two billion dollars through 2013 in airport facilities and global products, services and technology to enhance the customer experience in the air and on the ground.
In partnership with TED, Delta has embarked on a journey to inspire thought, facilitate collaboration and identify great ideas to continue to enhance the travel experience, called "Ideas in Flight." The program uses curated TED Talks in social media as thought-starters to inspire their community, across technology, entertainment, design and much more. The ultimate goal is to spur imagination, and bring new and innovative ideas to the travel experience. To accomplish this, Delta actively listens to and engages in the conversations sparked in their community.
TEDActive Travel Project
Starting with an insights-driven TEDActive project, Delta created a multi-year, multi-platform partnership with TED that helped Delta redesign their approach to sleep and hospitality – which culminated in an impressive showcase at TED2013.
The TEDActive Travel Project produced recommendations to enhance air travel, both for individual travelers and the industry. The following year, the Delta team returned to the conference to host an intimate dinner about travel and the airline industry, and to demonstrate how they had brought action to the attendee ideas.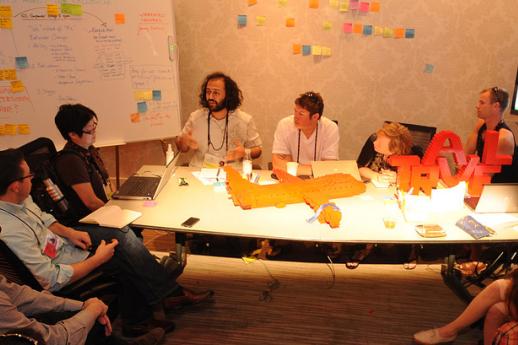 TEDActive 2013 attendees collaborate at the Travel Project workshop
"Ideas in Flight"
Based on the insights of Delta's Travel Project, Delta and TED developed "Ideas in Flight," a Facebook, YouTube, and mobile-powered platform featuring TEDTalks as thought starters. The talks offered a new perspective on a variety of topics designed to inspire the Delta community. After the talk, a thought-provoking question was posed to spark ideas that other people could like, share, and comment on it. Everyone could watch how the best ideas were recognized and given the opportunity to become a real action that improves the travel experience for everyone.
As a result of feedback at the conference and online, Delta worked to transform the in-flight sleeping experience by offering new luxury amenities, including Westin Heavenly In-Flight bedding in all of its BusinessElite cabins throughout the world. In addition to the new bedding, Delta also worked with its flight attendants to modify in-flight service to better foster sleep.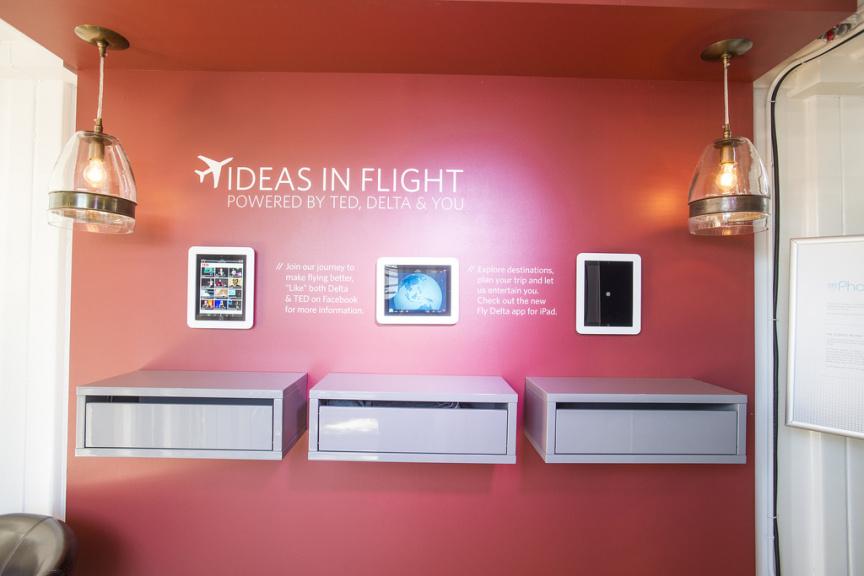 Delta's "Ideas in Flight" booth at TED2012 focused on social media
"Power Up"
Delta debuted its renewed focus on sleep at TED2013 in Long Beach, California. Their "Power Up" lounge featured the world's first Photon Shower – a light chamber that conference attendees could enter for a few moments to help reset their body clocks through a rejuvenating light treatment. Conference goers could relax in Delta's "Power Down" lounge, a second activation space featuring flat-bed seats with Westin Heavenly In-Flight bedding, nap pods, and calming white noise.
TED's collaboration with Delta on "Ideas in Flight" created an open dialogue about how to improve air travel around the world. Delta continuously participates in the community – recognizing great ideas, answering questions and sharing improvements to the airline industry. "Ideas in Flight" shows Delta is listening and gives consumers a direct line to the brand to share their ideas and questions. The program has provided a chance to see consumer ideas put into action and provides consumers knowledge they are contributing to an important effort to improve the travel experience.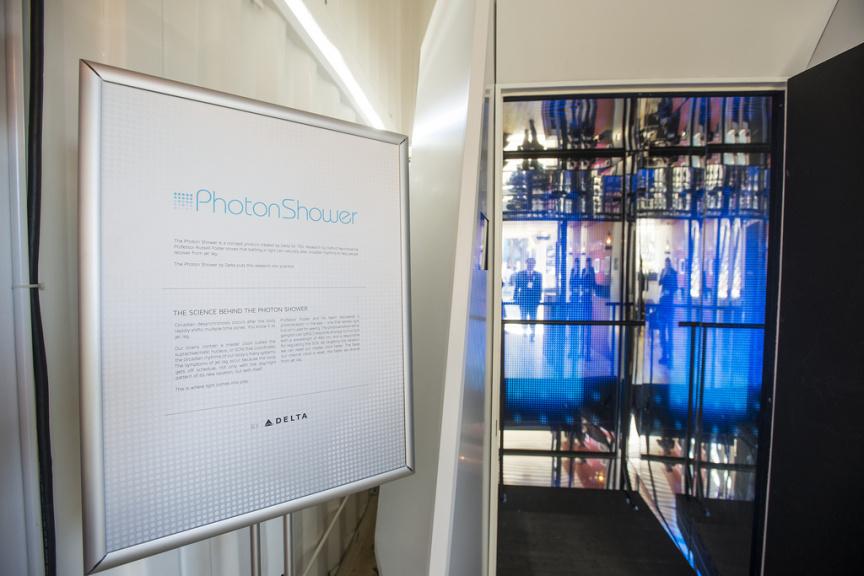 In Delta's "Power Up" lounge at TED2013, attendees could experience a rejuvenating Photon Shower
---