TED Talks Live
TED Talks Live: Six nights of talks on Broadway
The Town Hall Theater, New York, NY
November 1-6, 2015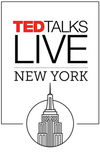 ---
Purchase tickets
The Education Revolution
November 1 & 2, 2015
Why is teaching grit and character so important? What will schools and education look like in the future? Hear first-hand about some of the latest innovations and thinking in education with some of the brightest minds in the country. Examine how we can control our ability to learn, the education gap, restorative justice for youth, the effects of hunger on kids, bullying, mentoring and just how we keep kids on track to build a better future.
See the speaker lineup: November 1 & November 2
November 1, 2015
---
SOLD OUT
November 2, 2015
---
SOLD OUT
War & Peace
November 3 & 4, 2015
Can we build a future without war? What does it take to bring peace? Join those who have experienced every aspect of war -- fighters, journalists, psychologists, and more -- for a look at the impact of war in the world. Learn how it affects every one of us in these extraordinary, passionate talks and performances from Adam Driver, Rufus Wainwright, Sebastian Junger, and many more vital voices.
See the speaker lineup: November 3 & November 4
November 3, 2015
---
SOLD OUT
November 4, 2015
---
SOLD OUT
Science and Wonder
November 5 & 6, 2015
How do we make sense of the universe around us? How will science help us understand the future of our tiny planet and perhaps our journey to other planets? Join in as we take you on a scientific journey and examine the riddles of the universe that keep leading scientists awake at night.
See the speaker lineup: November 5 & November 6
November 5, 2015
---
SOLD OUT
November 6, 2015
---
SOLD OUT
---
TED Talks Live program
November 1: The Education Revolution
---
November 2: The Education Revolution
Co-hosted by Baratunde Thurston and Sara Ramirez, featuring:
---
November 3: War and Peace
Hosted by Baratunde Thurston, featuring:
---
November 4: War and Peace
Hosted by Baratunde Thurston, featuring:
---
November 5: Science and Wonder
Hosted by Baratunde Thurston, featuring:
---
November 6: Science and Wonder
Hosted by Baratunde Thurston, featuring:
---
TED Talks Live is supported by: