IIMIndore
x
= independently organized TED event
Theme: Ideating Minds
Indore, MP, India
March 2nd, 2014
Watch video from the event
Please install flash player to see this video.
View photos from the event on Flickr
About this event
From the invention of the wheel to the internet revolution, each and every significant advancement in the history of mankind has been based on one phenomenon - an idea. As John F Kennedy famously remarked, "A man may die, nations may rise and fall, but an idea lives on". World-changing ideas and their successful implementation have brought our species to the pinnacle of the evolutionary pyramid. It is this cornerstone of civilization that IIM Indore celebrated through TEDxIIMIndore, with 'Ideating Minds' as the central theme. The event featured noted speakers from diverse walks of life who delivered brief and impactful TEDx talks that inspired the community to break away from the rat race and pursue excellence in their chosen fields. Overall, through a combination of pre-recorded TED videos and inspiring live talks, the event created an experience which will stay with the audience for a long time.
Organizer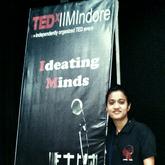 Rohini H
Indore, India
Team
Raoul Lopes

TEDx Organizer

Suhasini G K

TEDx Organizer

Vishal Vyas

TEDx Organizer

Parth Kosada

TEDx Organizer

Vamsi Krishna Bethapudy

TEDx Organizer

Dialine L

TEDx Organizer

Vishnu Murthy K

TEDx Organizer

Mahajan Mayur Laxman

TEDx Organizer

S Manikandan

TEDx Organizer

Anima Sharma

TEDx Organizer

Rajlaxmi Choudhary

TEDx Organizer

Devajeet Datta

TEDx Organizer

Manisha Swain

TEDx Organizer
---