Translate
The Open Translation Project is a global volunteer effort to subtitle TED Talks, and enable the inspiring ideas in them to crisscross languages and borders.
Collaborating with TEDx
TEDxMadrid transcribathon
As a TEDx organizer, how can you turn your audience into active participants, strengthen your local TEDx community, and make your event's ideas accessible? TEDxMadrid's Antonella Broglia and Javi Garriz figured out the solution: host a transcription marathon!
Learn more
At TEDGlobal 2014
¡El translatosaurio!
OTP volunteers gather around the sculpture dubbed "translatosaurus," a translation-themed creature with the head of a bull and tail of a scorpion, brought to life by Brazilian artist Fefe Talavera. Soon after, the "translatosaurus" had a name in many different languages...
Language Coordinator spotlight
Gustavo Rocha
A true dancer at heart, Gustavo Rocha knows how to take the floor — and teach fresh moves in six languages. Gustavo advocates to improve public education in his home country, Brazil. Naturally, he's a driving force behind translating TED Talks into Brazilian Portuguese, and advancing his language community within the OTP.
Learn more
At TEDGlobal 2014
Applause for TED translators
TED's volunteer translators received a shout-out from the main stage and a hearty round of applause from the audience at this year's TEDGlobal, in Rio de Janeiro, Brazil.
From the blog
Rekindling a language
Asqat Yerkimbay translates TED Talks into Kazakh to prove his native language can express today's big ideas. Through his NGO and a weekly gathering called Chay-Fi (tea + wifi), Asqat brings together volunteers who are helping to
increase the use of Kazakh — online and offline.
Learn more
Language Coordinator spotlight
Shadia Ramsahye
Watch the story of Shadia Ramsahye, a Mauritian-born digital media student in Paris who translates TED Talks into French and Urdu.
Watch now
Previous
Next
Translation stats
105 languages
18,920 translators
66,357 translations
---
---
Help us translate!
Join our global community of volunteers to bring TED into your language. Get started.
Translator tools
---
---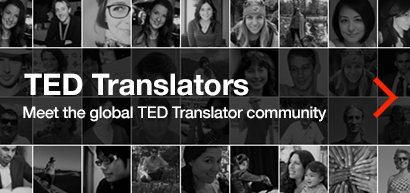 ---
Translator tutorials