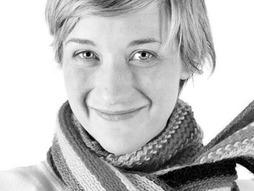 Jessi Arrington is a color-loving designer based in Brooklyn.
Why you should listen
Jessi Arrington is a founder and owner of WORKSHOP, a designer firm in Brooklyn. Her favorite color is rainbow and her default answer is YES. She's taught Design Fundamentals at Touro College and given guest lectures at NYU; she's a board member of AIGA/NY. Before co-founding WORKSHOP, she carried out branding for Brooklyn Brewery, Tomato Records and Lion Brand Yarn under the direction of Milton Glaser. She makes a hobby of wearing nothing new (except undies).
She blogs at LuckySoAndSo.com about design, consumption and color.
Jessi Arrington's TED talk
Quotes from Jessi Arrington
Color is powerful. It is almost physiologically impossible to be in a bad mood when you're wearing bright red pants.
A universal truth — five words for you: Gold sequins go with everything.