WoodsidePriorySchool
x
= independently organized TED event
Theme: Viva La Vida
Portola Valley, CA, United States
December 7th, 2013
About this event
Hello! Woodside Priory School's TEDx club will be hosting its first TEDx event from 2:00 p.m. to 5:00 p.m. on December 7th, Saturday. The theme of the event is "Viva la Vida," as speakers will share their life experience with the audience. In TEDxWoodsidePriorySchool, TEDTalks video and live speakers will combine to spark deep discussion and connection in a small group.
Confirmed Speakers
Ray Rothrock
As a venture capitalist for more than two decades and currently ranked #42 on Forbes' Midas list, Ray has assisted entrepreneurs in achieving their dreams and produced outstanding financial returns for his limited partners. Ray joined the investment company Venrock in 1988 and after 24 years and 52 investments, his passion for building companies continues. Ray invests mostly in the fields of computer network security and energy. He currently serves on the boards of nine private companies in Venock's portfolio and one public company: Check Point Software Technologies (NASDAQ: CHKP). He is also the Chairman of Tri Alpha Energy. In addition to his venture capital investing, Ray is presently the Chair of the National Venture Capital Association. He also serves on the Visiting Committee of the MIT Nuclear Science and Engineering Department. In 2010, he testified to the President's Blue Ribbon Commission on Nuclear and has testified to Congress on numerous occasions. He is a frequent speaker on venture, technology and energy industry topics.
Michaelene Risley
Michealene Cristini Risley is an award winning writer, director and human rights activist. Her first film, Flaschards, won numerous awards, screened in the Shorts du Jour program at The Cannes Film Festival and was picked up by American Public Television for PBS stations. Her new documentary, Tapestries of Hope has also won numerous awards and launched in 107 theatres on Sept 28th for one night only. The film is also being used as a tool for grassroots efforts with over 45 groups to push Congress to sign and FUND I-VAWA (International Violence Against Women Act) one of those key partners is FACEBOOK who actually helped her to get out of prison in Zimbabwe. A member of both the Writers Guild and The Directors Guild, Michealene also co-authored the best-selling book, "This is not the Life I ordered", selling over 50,000 copies. Miss Risley also blogs frequently for the Huffington Post on issues of Women and Children, Human Rights and Africa. She was recently honored as One of Silicon Valley's most influential Women.
Jaimal Yogis
Jaimal Yogis started writing stories in Kindergarten and never stopped. After graduating from Columbia Journalism School, he became full-time feature writer for San Francisco Magazine where his story, What Happened to Black San Francisco, won Best Feature from the Western Publisher's Association. Another feature, Killing the Death Penalty, was runner up for Best News Story. Simultaneously, Jaimal published his first book, a humorous coming-of-age memoir about running away from home to surf around the globe. Saltwater Buddha became a quick best-seller, praised by The Times of London, The Age, Publisher's Weekly, Kirkus, The San Francisco Chronicle and many others. The book is currently being made into a feature-length documentary, which Jaimal is writing. In 2013, he published a journalistic memoir with Rodale called The Fear Project that explores the science of fear and courage, from death-defying acts like surfing the biggest waves on earth to getting married and having children. The Fear Project has been featured by Oprah, The Wall Street Journal, Outside, Forbes, NPR, and many others.

Karimah Al-Helew


Karimah Al-Helew is a young woman whose mother was a Catholic Cuban and whose father who was a Palestinian Muslim. Karimah was raised in the Islamic tradition but, as every person of faith experiences, she faced many internal struggles. A high-schooler during 9/11, she kept her religion a secret from most of her friends and peers out of fear of judgement. She was an incredible athlete who had a passion for soccer, and thus the idea of being completely covered or wearing a Hijab (head scarf) was not something she ever planned on doing. And yet, upon entering college and joining the Islamic Students Association, she began to grapple with her faith and made decisions that changed her life forever. An athlete, a teacher, and a youth-activist, Karimah is a Muslim woman who has embraced her faith while still maintaining her passions and feminist perspective. Listen to her speak to find out where her journey brought her and what it can teach the rest of us.

Bob Zheng


Bob Zheng is currently a freshman in Woodside Priory School. The youngest IOS developer in China, Bob showed remarkable talents in computer programing. In 2010, he made possible the Chinese input in Kindle 3. Within only six months, he released his first app called "iDraw". After a year's hard work, he published his second app "deePrac," catching a round of exclamations in China and receiving wide spread positive reviews. In 2012, Bob was invited by Baidu, the Internet magnate in China, to speak in its developer conference. The whole speech was documented by Sina.com, China's leading Internet portal. On September 9th, 2012, facing more than 3000 people, he succeeded in making a presentation on TEDtoChina. After witnessing this phenomenal speech, a Forbes editor yelled "incredible" in Forbeschina.com.
Cy Khormaee
Cy Khormaee is currently an MBA Candidate at the Harvard School of Business. Formerly he was a Technology Evangelist at the Microsoft Corporation focused on Social Computing. He is a much sought-after public speaker and regularly lectures at universities across the US. Prior to his role as an Evangelist, Cy was a Program Manager responsible for the analytics engines behind MSN.com and Windows Live Messenger ad sales. Cy holds a Bachelor in Computer Science from the University of Washington.
Organizer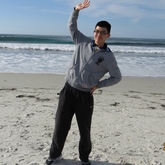 Vick Xu
Portola Valley, CA, United States
Organizer
Robert Bessin
Portola Valley, CA, United States
Team
Shivani Dayal

Co-organizer

Non Kuramoto

Marketing

Nicolas Tan

Marketing

Bianca Rapp

Venue Design

Yvonne Faisal

Moderator

Nancy Newman

Moderator
---