TianjinUniversity
x
= independently organized TED event
Theme: Declaration of Independence
Tianjin, China
September 25th, 2013
About this event
There's a trend that the society and the people in the society now comes to a stage where is greatly diversified,and what contributes a lot to this is the spirit of independence.Now we'd like to discuss the power and the amazing thoughts brought by this spirit,from the view of an independent scholar or a poet,we can hear the voices out side the box.
Confirmed Speakers
Jin Gang
He's an independent scholar and also a researcher of the history of the ideology。The fact that independent scholars in modern society are gradually recognized touched him so much.So he will bring us a speech entitled"The way of the independence".
Xiao Chen
He's a poet,who is also a critic of photography.The spirit of independence made him to describe himself as "bread where outside the system",this day he will bring us a speech titled"From photography to non-photography".
Additional Links
TEDTalks shown
Organizer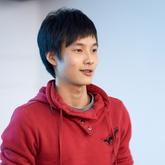 Ernest Jiang
Tianjin City, China
Team
Ren Jie

Organizer

Lei Hanxiang

Organizer

Chen Tianwei

Publicist

Chen Ruoyu

Publicist
---